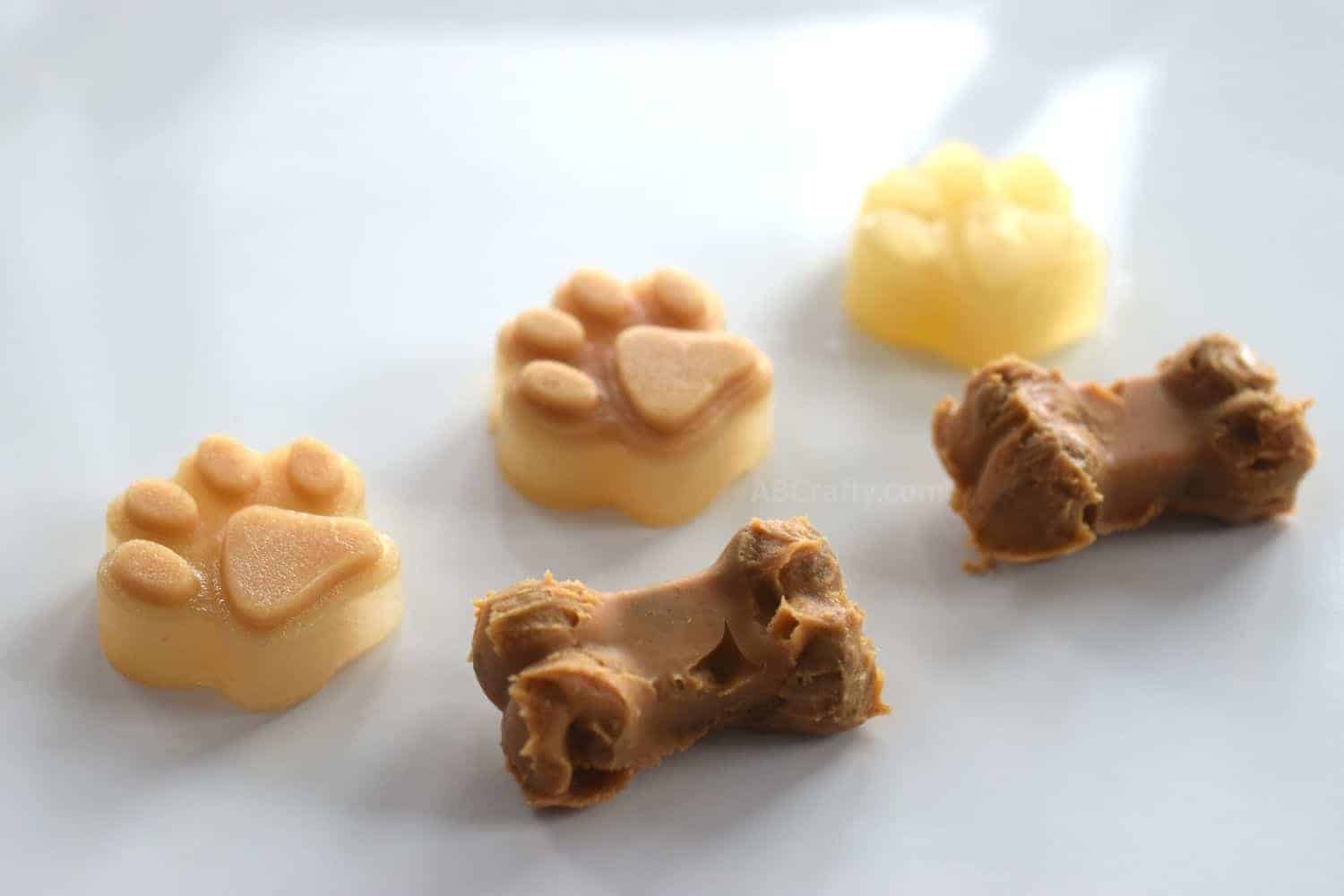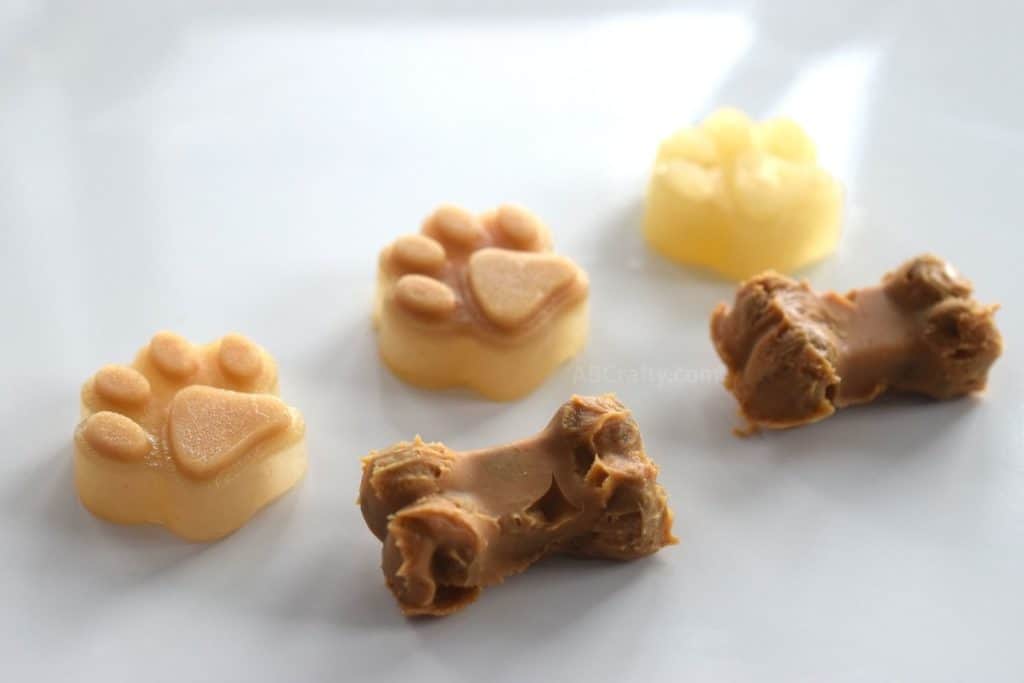 Learn how to make frozen homemade dog treats. They're fantastic and healthy dog popsicles and only take two ingredients, perfect for training or as a tasty snack for your pup.
These homemade dog treat recipes are ridiculously easy to make so I always like to have a bunch on hand. Not only are they a refreshing popsicle for your puppy, but also since they're frozen they will take longer to eat than a regular biscuit.
I've compiled a list of several recipes, but certainly feel free to get creative. The flavors I made use peanut butter, apple sauce, sweet potato, and pumpkin, but there are plenty of other fruits and vegetables you can use. All of these make for healthy dog biscuits and training treats so go with whichever your pup would like the most. And to make it easy to whip up some puppy popsicles any time, I created some downloadable recipe cards.
Warning Regarding Peanut Butter: Double check your peanut butter to make sure there isn't any xylitol (an artificial sweetener often found in peanut butter). Xylitol is extremely toxic to dogs. It's also a good idea to get reduced sodium or no-salt added peanut butter as too much sodium can also not be good for dogs.
Note: Some links in this post may contain affiliate links, which means at not cost to you, I may earn a commission.
Dog Popsicle Recipe Cards
Download these free recipe cards to have on hand any time your pup wants a yummy frozen treat!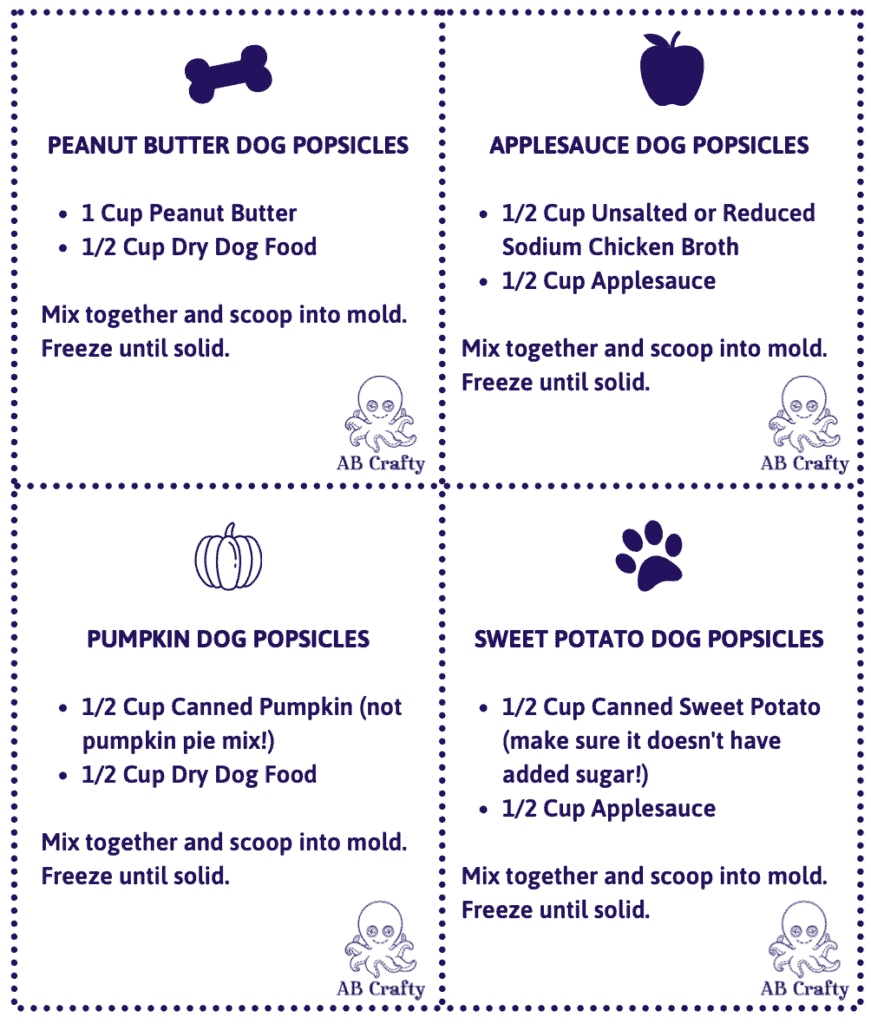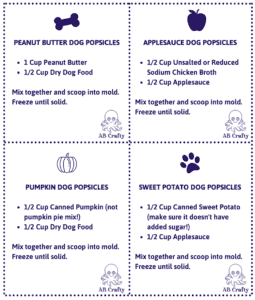 Download Free Dog Popsicle Recipe Cards
We're committed to your privacy. AB Crafty uses the information you provide to contact you about relevant content and products. You may unsubscribe from these communications at any time.
Peanut Butter Frozen Dog Treats
Don't forget to pin it so you can come back to the recipes later!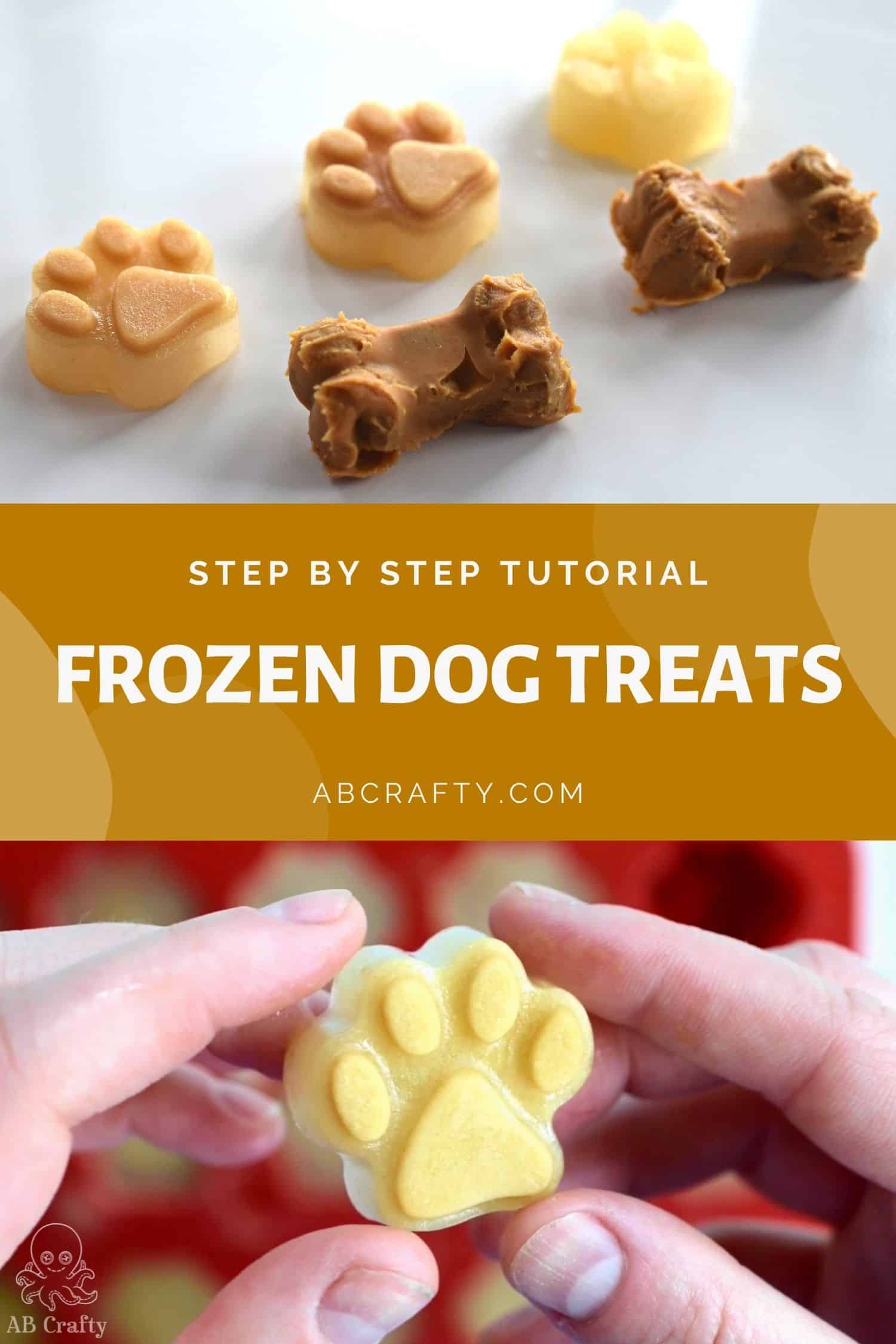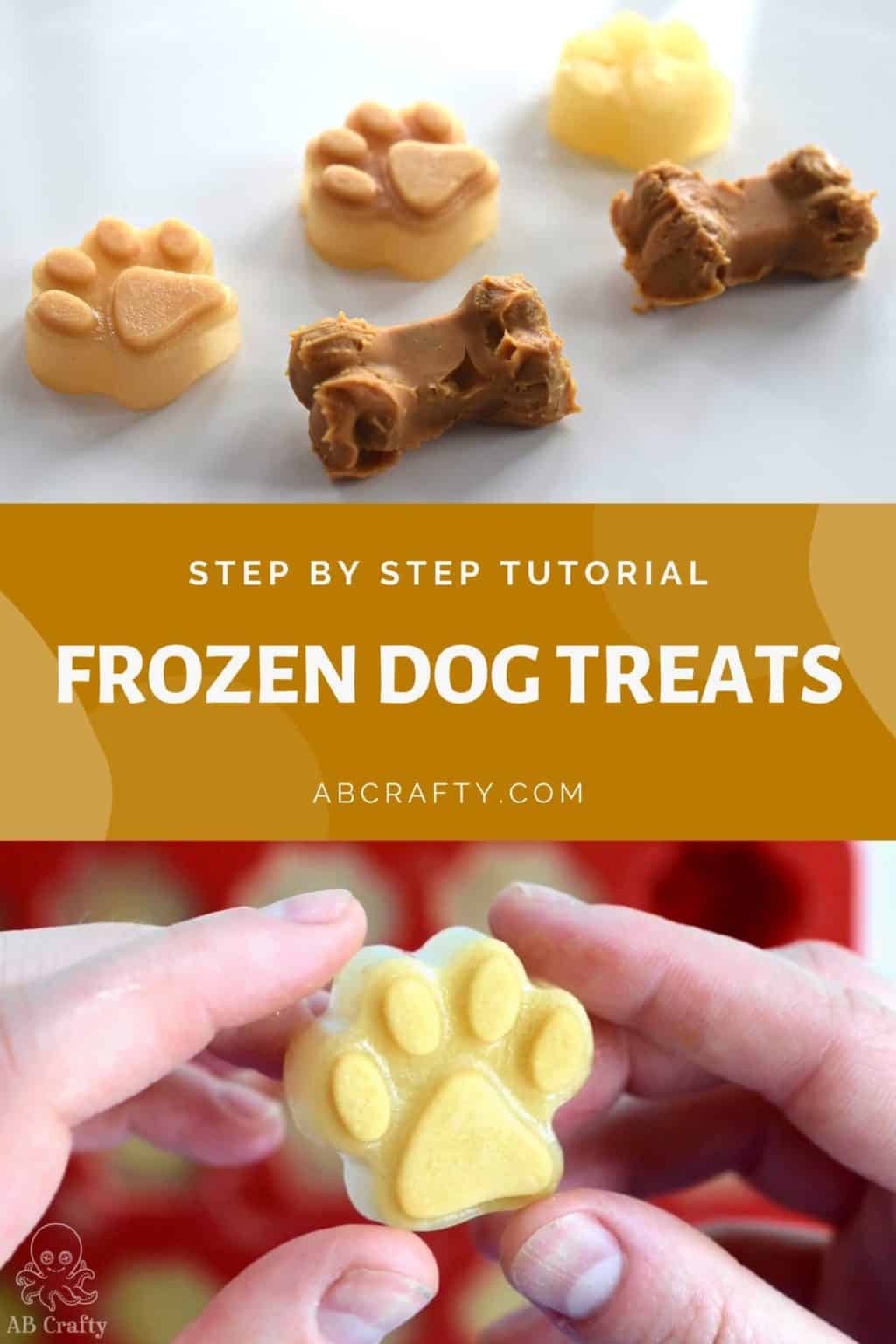 These peanut butter dog treats are great for pups who like a little bit of crunch. I like to mix in some of my dog's dry food. It not only to give it that extra bit of texture that I know he loves, but also this way I know he's getting some of his nutrient-dense food with his snack.
Ingredients
Step by Step Instructions
Scoop the peanut butter into a bowl and mix in the dog food. You can add as much or as little dog food as you would like, but you want to have a good amount of peanut butter so that the treat holds its shape.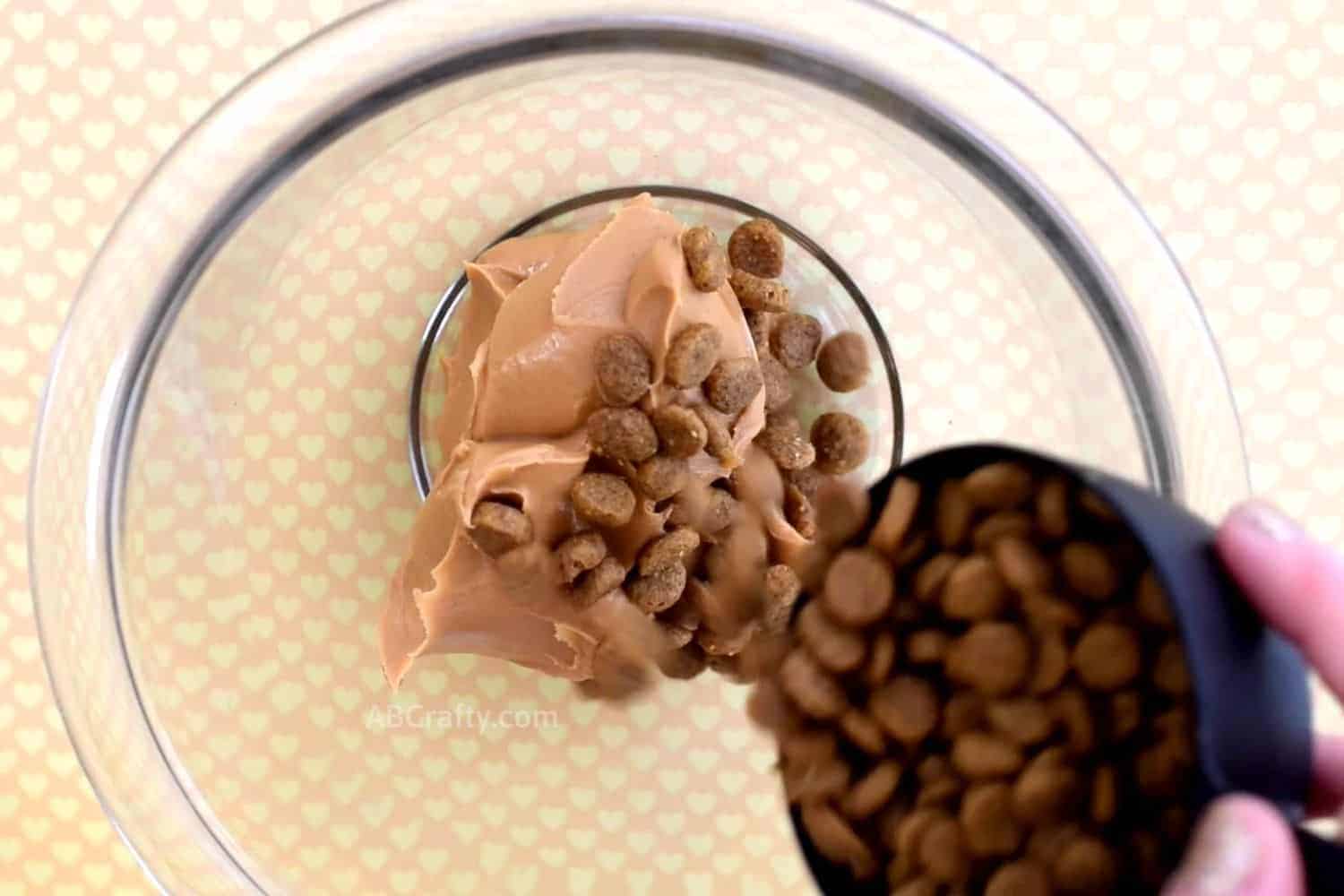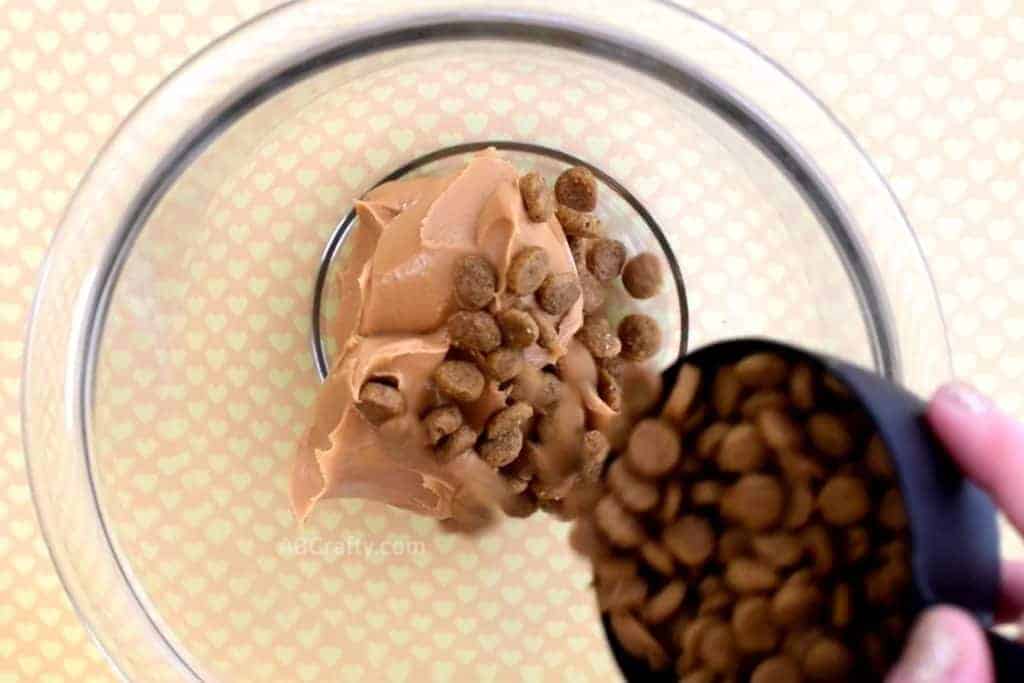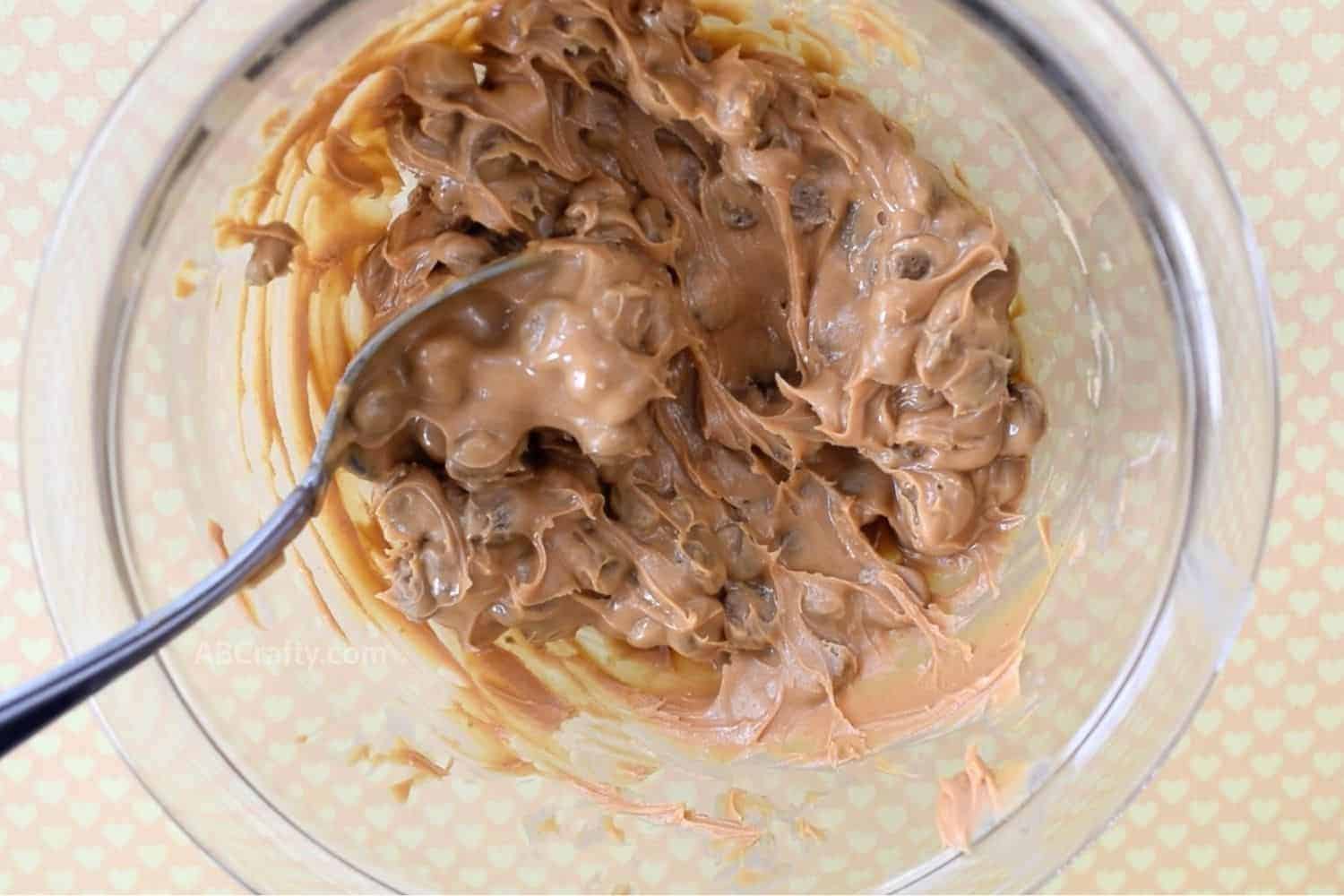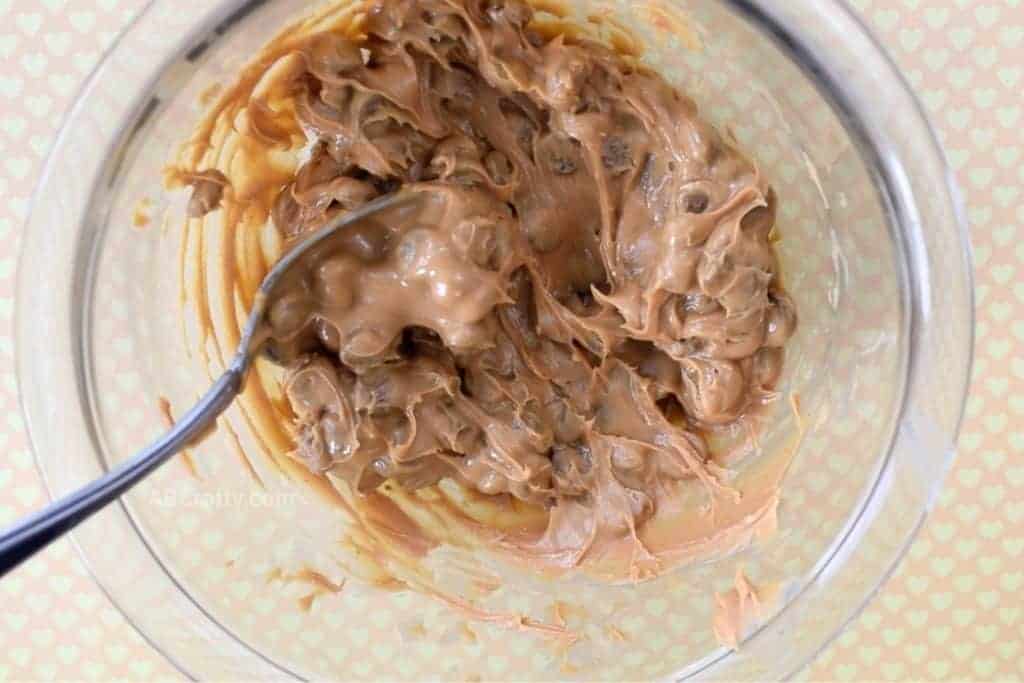 Spoon the mixture into a silicone mold. I received this adorable bone mold as a gift and it made for the perfect size (here's a link to get it). Keep in mind – with the added dog food you won't be able to get perfect detail on the mold so make sure the mold you use has a simple design.
I also found using my finger made the process easier since the peanut butter is so sticky.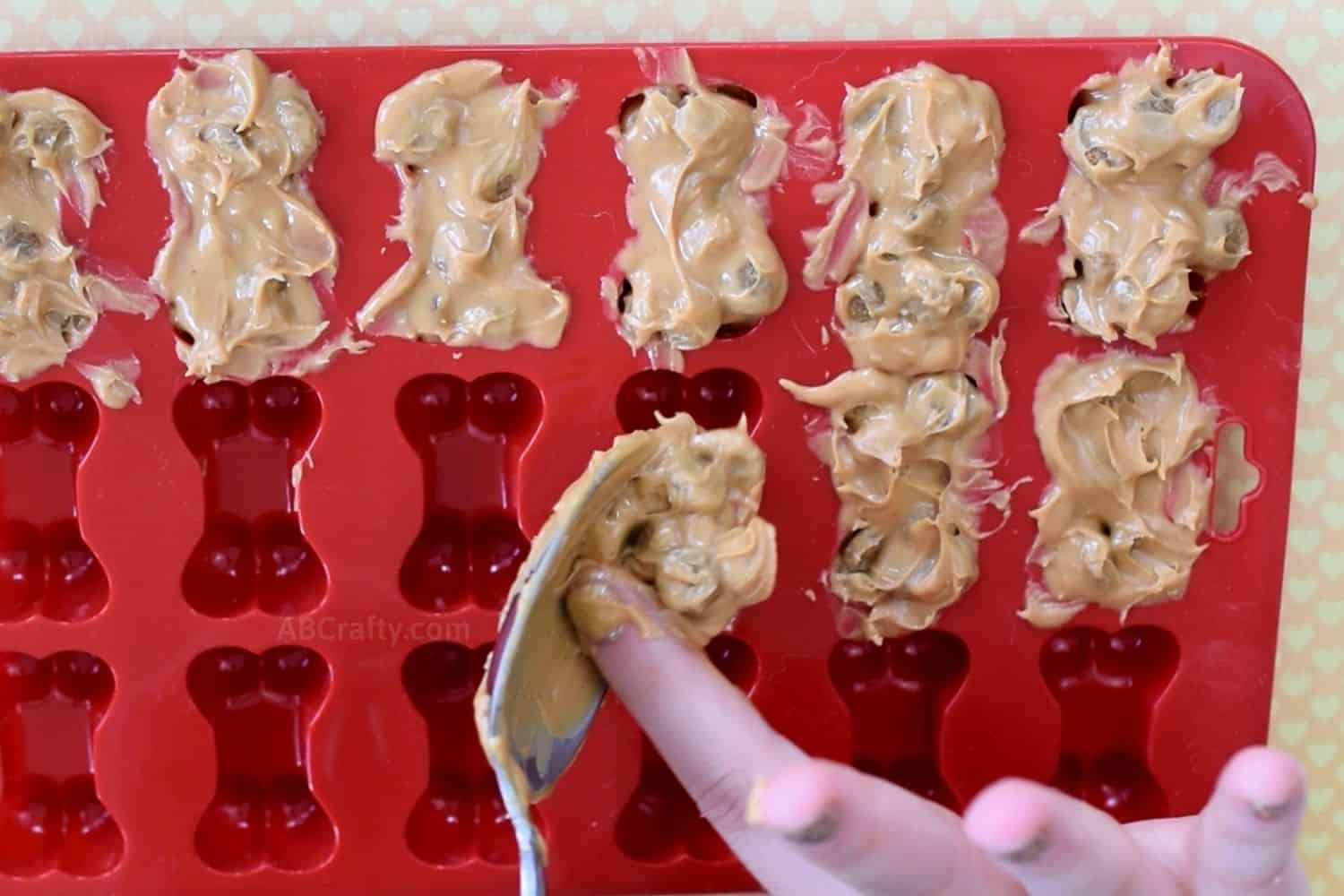 Place them into the freezer to harden. Once hardened they become one solid (non-sticky) treat, ready for your furbaby to enjoy!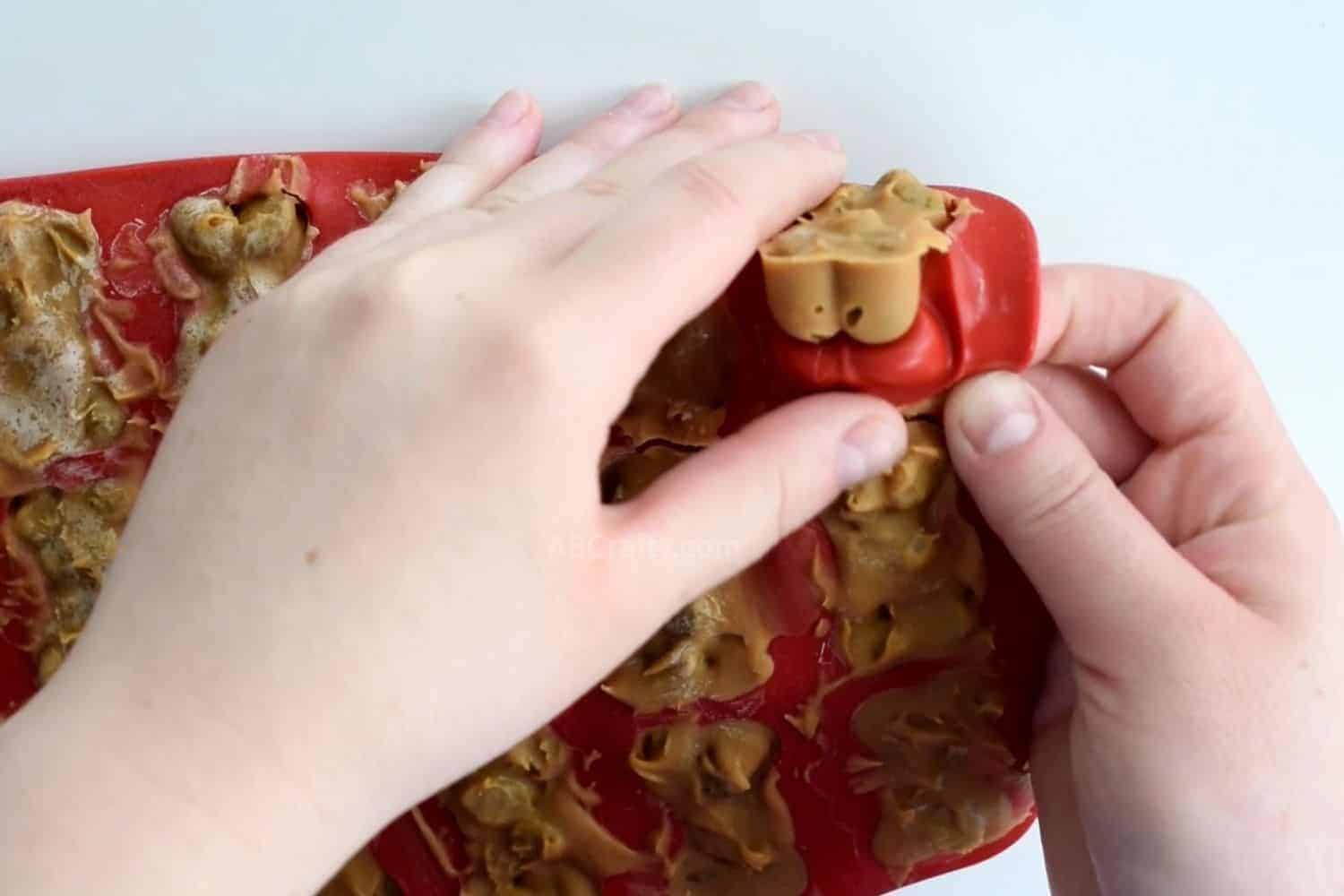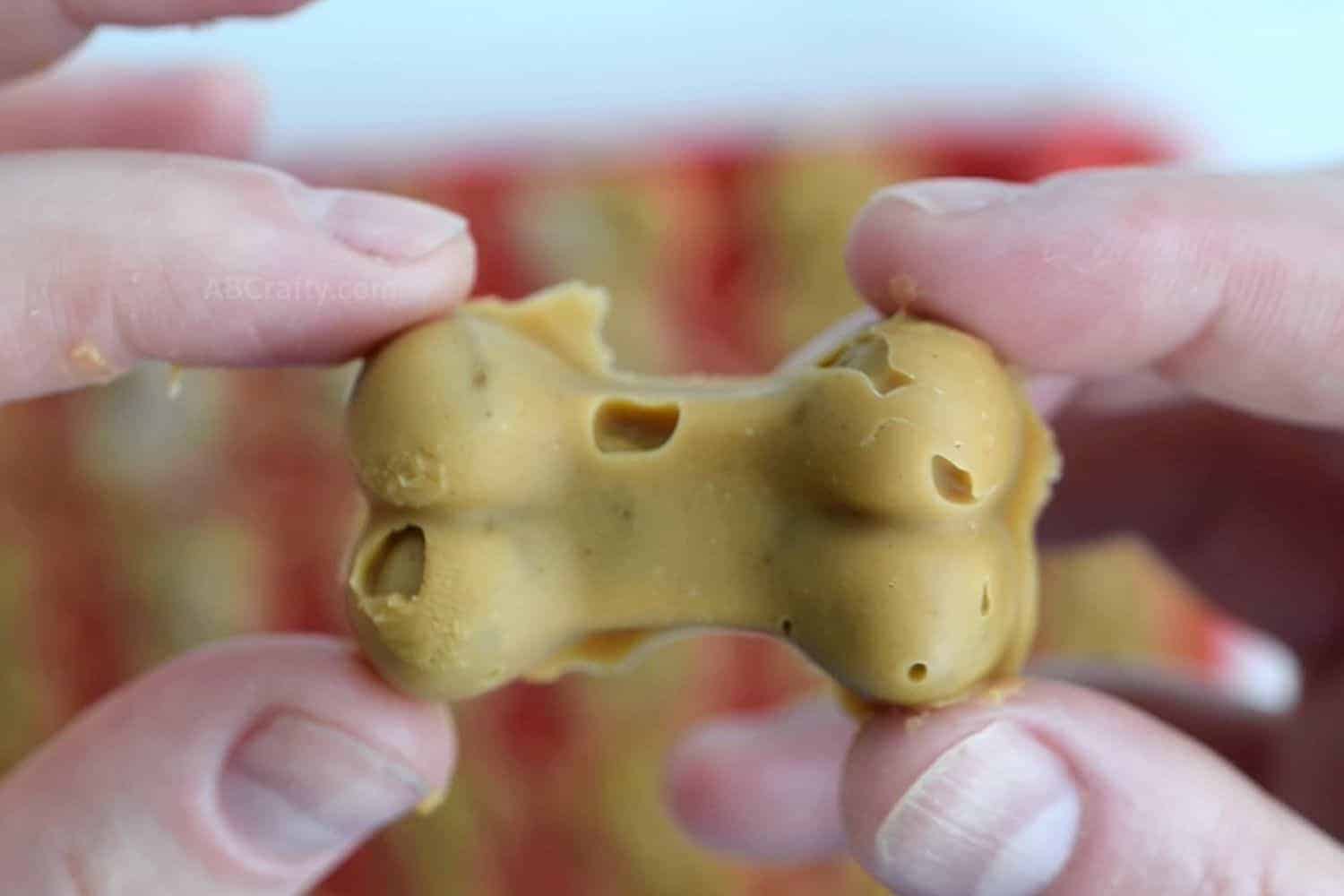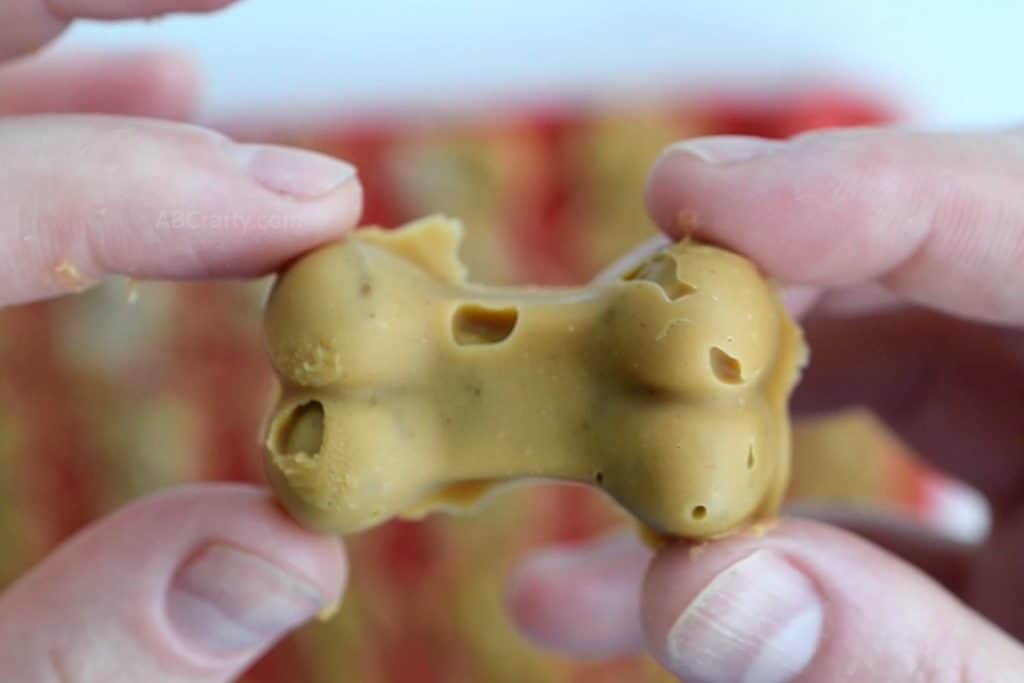 And of course my dog, Joker, tried to steal them while I was taking photos and filming. I'll admit this one was staged, but I swear he did it right before taking it!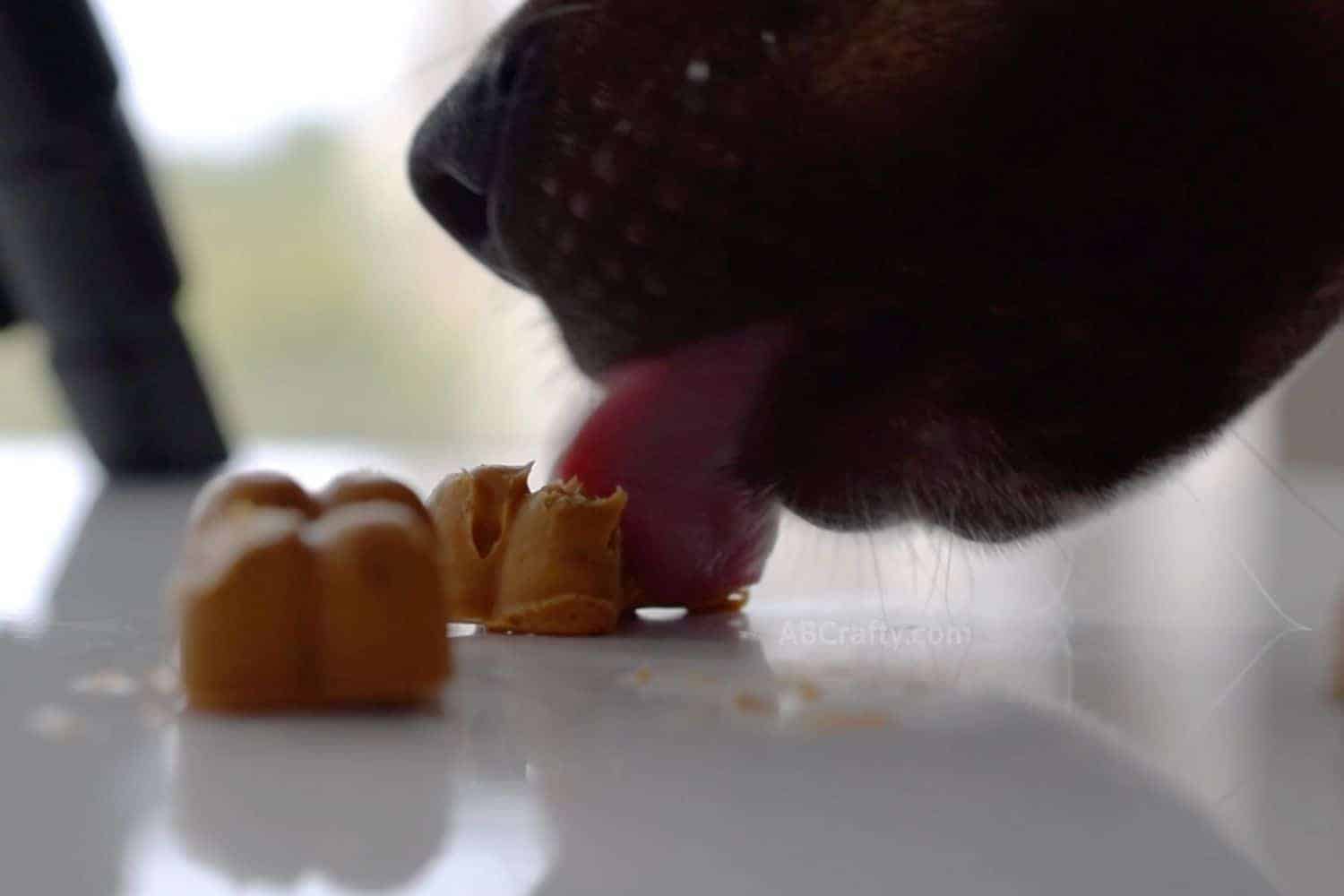 This homemade treat recipe is so simple and since it's mostly liquid, it freezes into basically an ice cube. I've found that my dog, Joker, takes much longer to eat this one. So if you're looking for your pup to enjoy his or her treat for longer, this puppy popsicle is a great option.
Note on Chicken Broth: Same as with the peanut butter, too much salt is not good for dogs. Therefore be sure to use unsalted or reduced sodium chicken broth to keep these treats as healthy as possible. And if your pup has food sensitivities, you can substitute water for the chicken broth in all of these popsicle recipes.
By the way, if you have a cat, here's a list of foods cats can't eat.
Ingredients
Mix the two ingredients together.
Tip: You can ultimately use whatever ratios you would like, depending on your dog's preference, but 50/50 is a good start. Adding more applesauce will make the treats slightly softer so if you've been instructed by your vet that your dog can't have ice cubes, definitely use more apple sauce and thin it out with the chicken broth.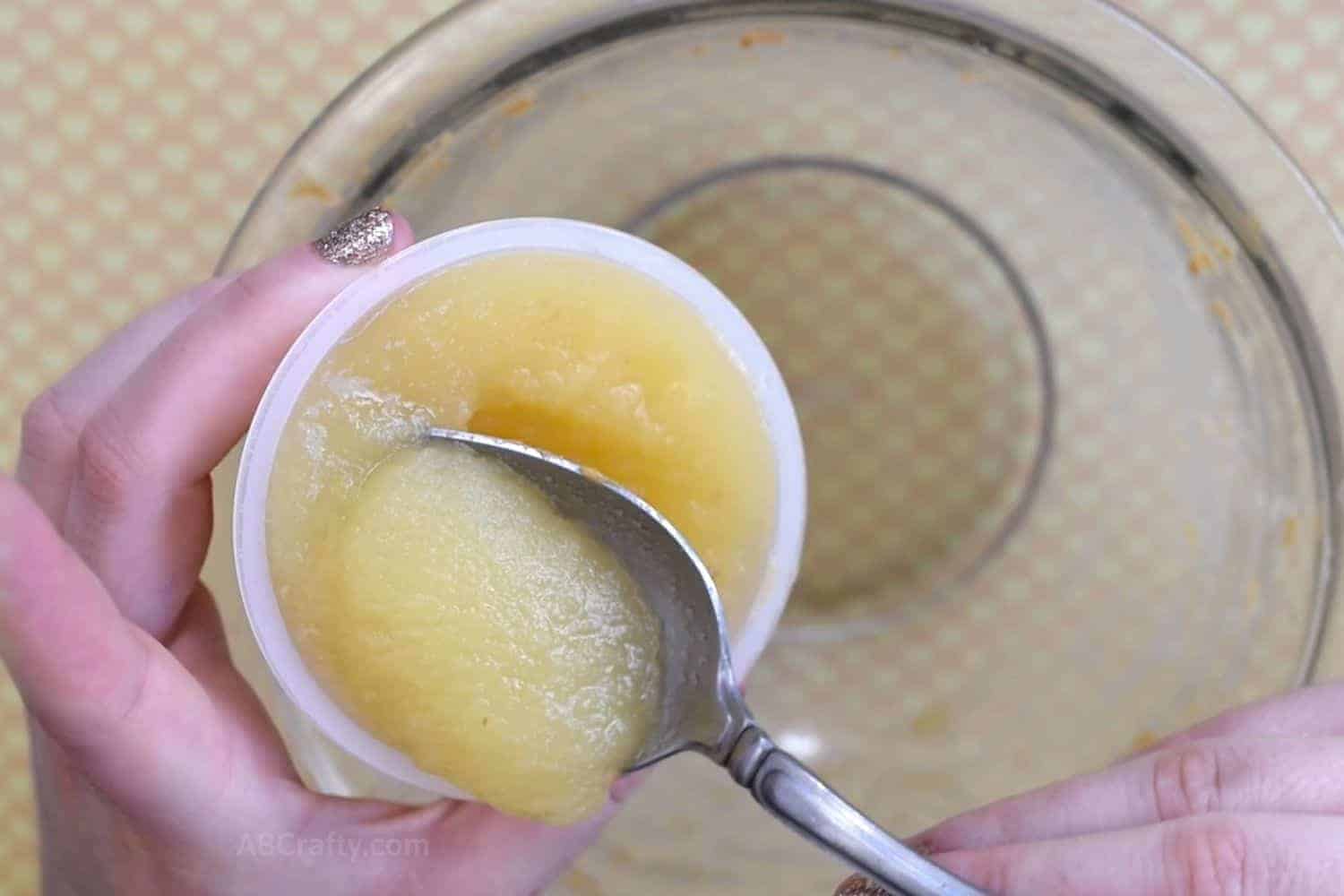 By the way, don't worry about changing bowls if you want to make them all in one day like I did. The way I see it, it's just more flavor if some peanut butter gets mixed in!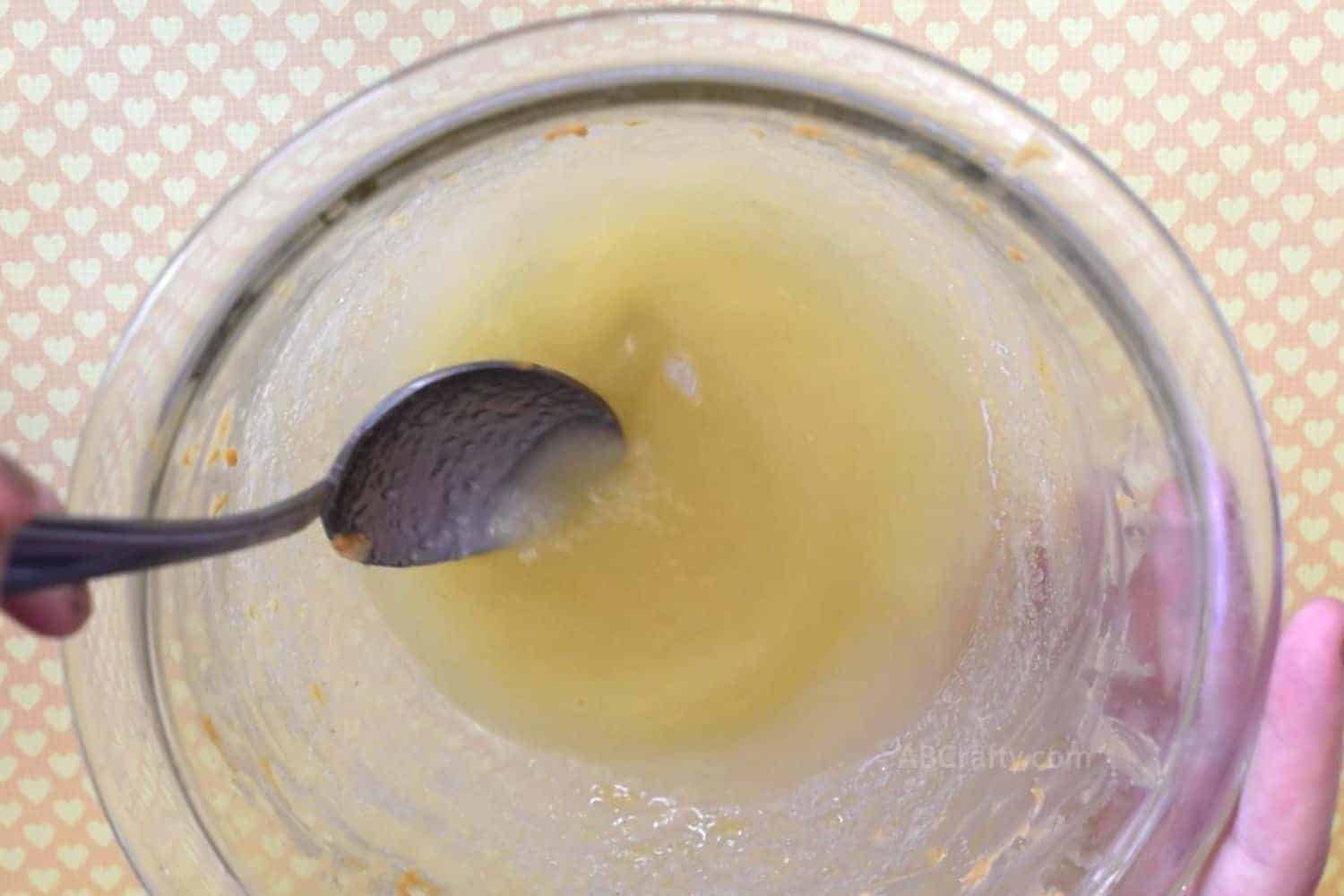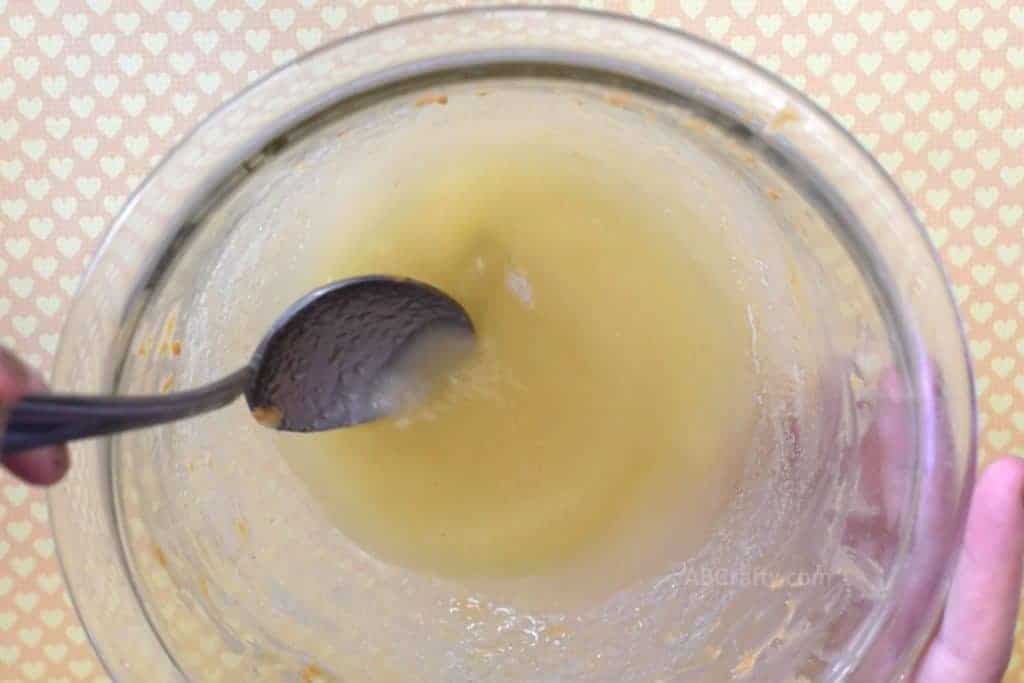 Spoon the mixture into a silicone mold (this is the one I used). In this case I used the more detailed puppy paws mold since the liquid will fill it out so the pattern will be clearly visible.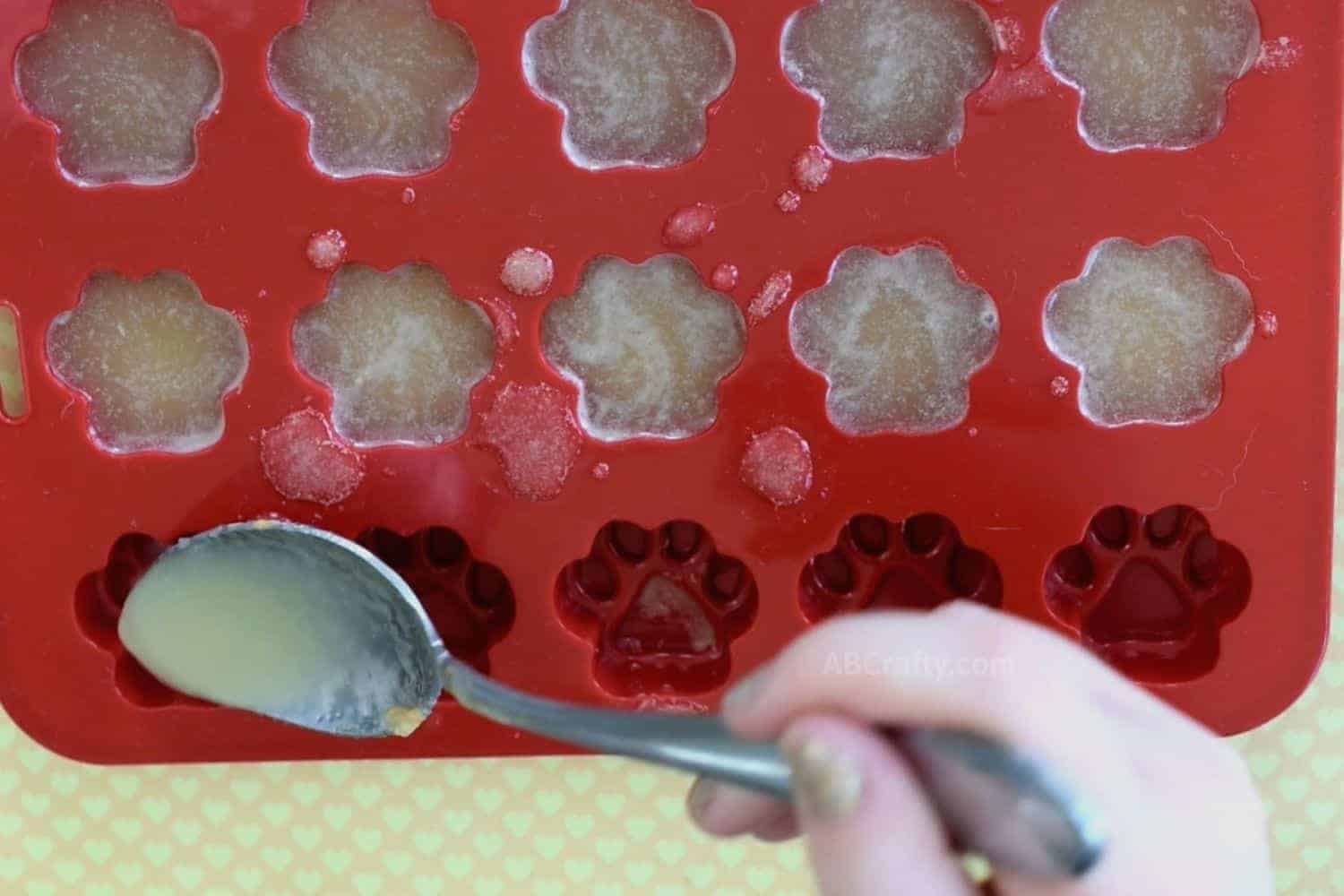 Freeze until completely solid and then let your pup enjoy them!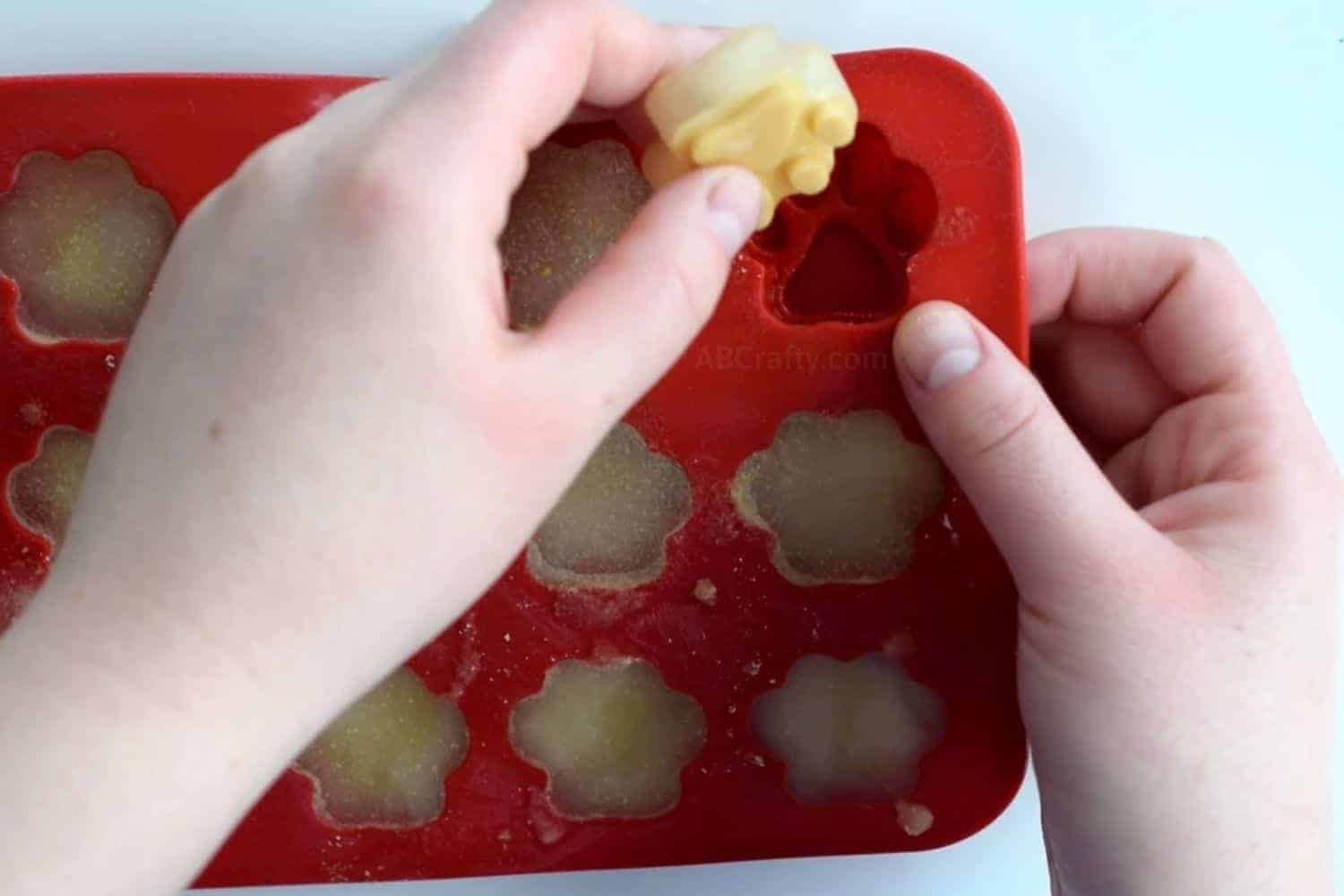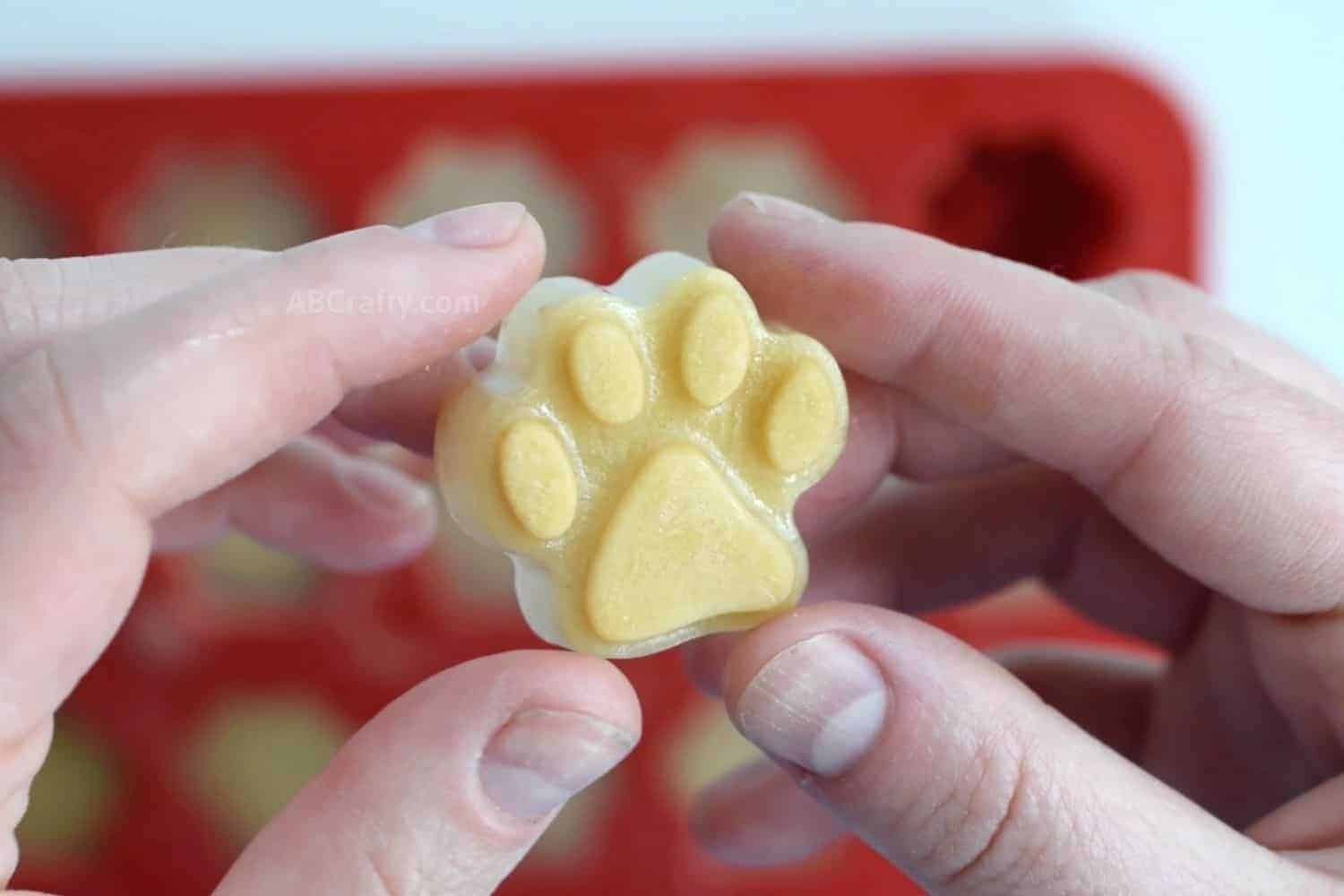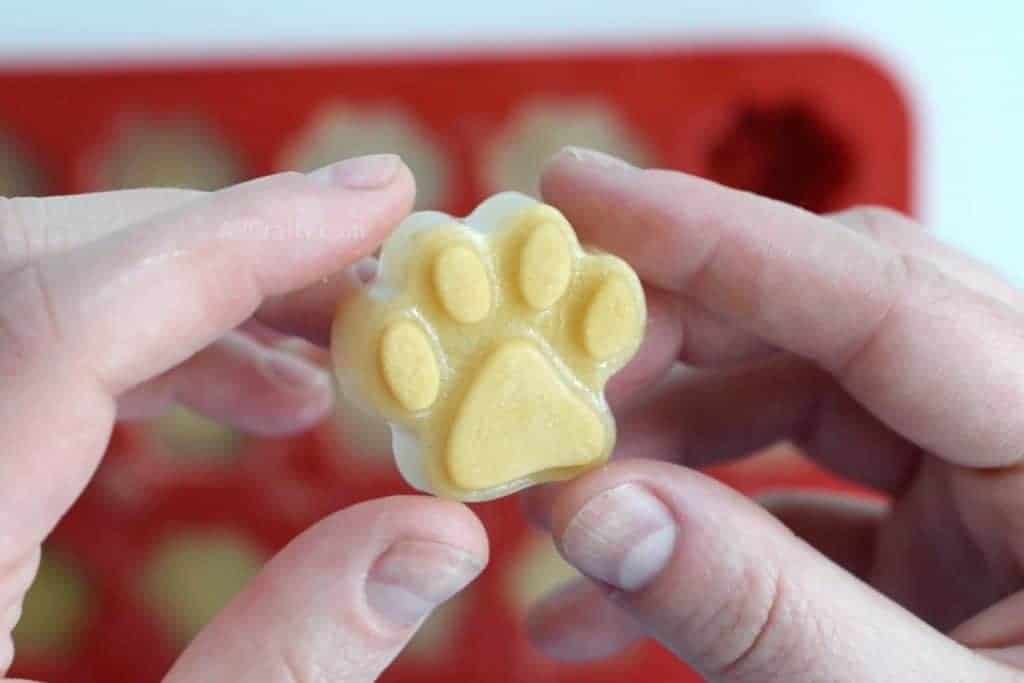 Another great thing to do with these frozen dog treats and popsicles is to put them in a toy such as a Kong. They'll slowly melt and soften so your dog will be entertained trying to eat it.
Here's my pup Joker trying to get it out of the Kong. Anyone else have a unique dog name?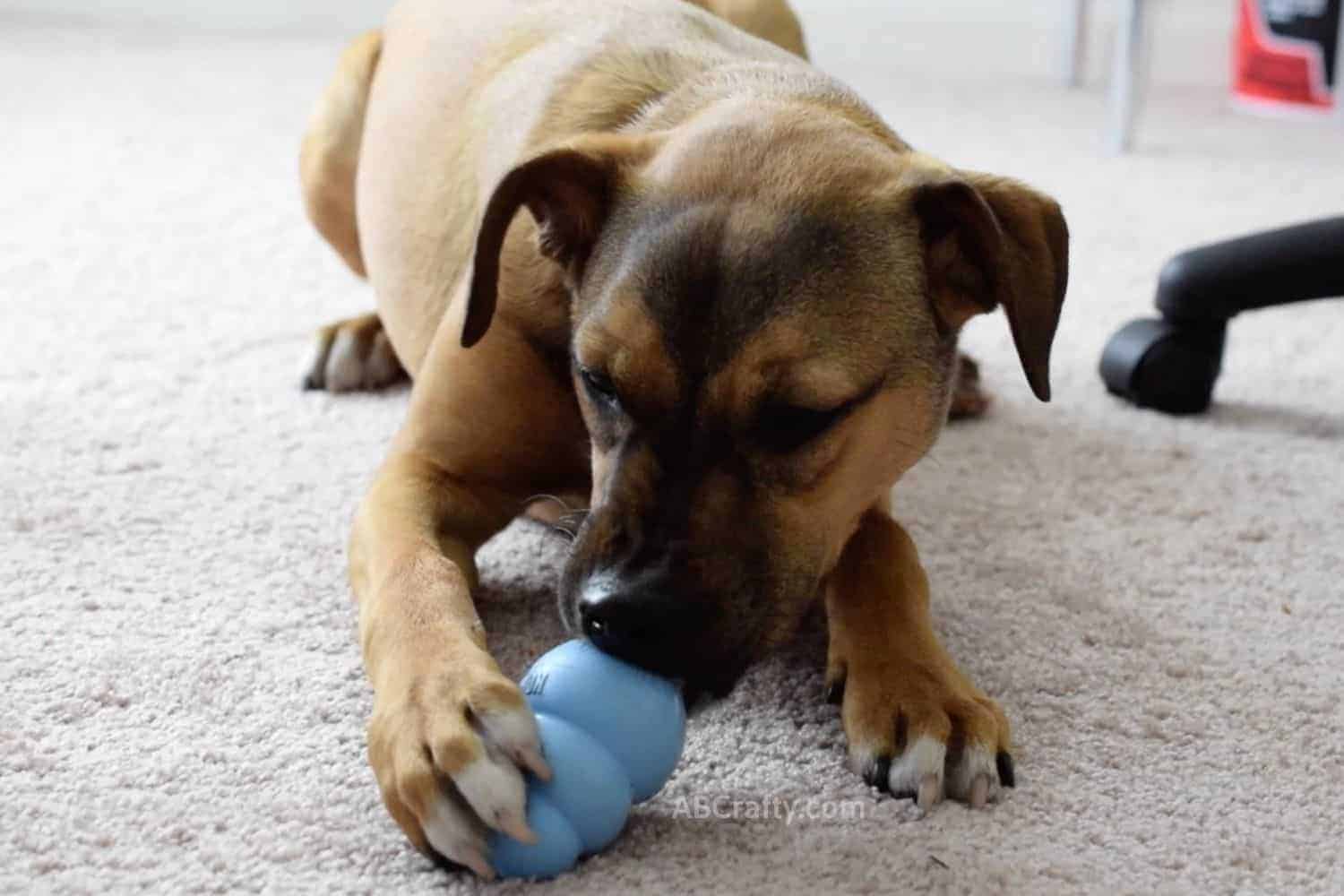 More Two Ingredient Treat Recipes
For all of these homemade dog treat recipes, the instructions are the same as the one with applesauce – mix the ingredients together, pour into a mold, and freeze.
Pumpkin Frozen Dog Treats
Pumpkin is great for dogs, especially those with sensitive stomachs or allergies. Be sure with any new foods though that you give it in moderation to start.
1/2 Cup Unsalted or Reduced Sodium Chicken Broth

1/2 Cup Canned Pumpkin (Make sure not to buy pumpkin pie filling – I 100% have accidentally done this!)

Silicone Mold (this is the one I like to use)
Sweet Potato Frozen Dog Treats
1/2 Cup Unsalted or Reduced Sodium Chicken Broth

1/2 Cup Canned Sweet Potato (Make sure it doesn't have added sugar)

Silicone Mold (this is the one I like to use)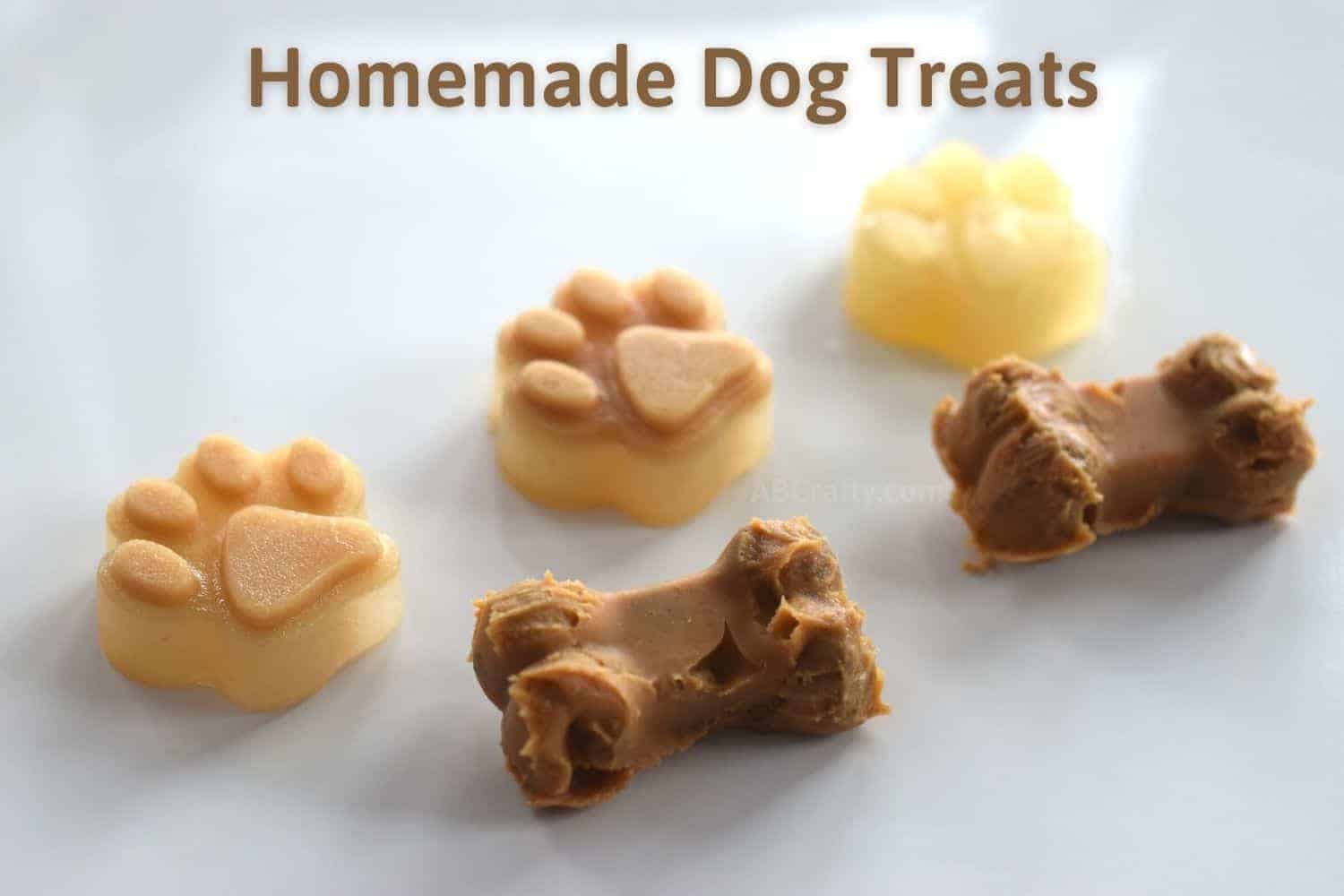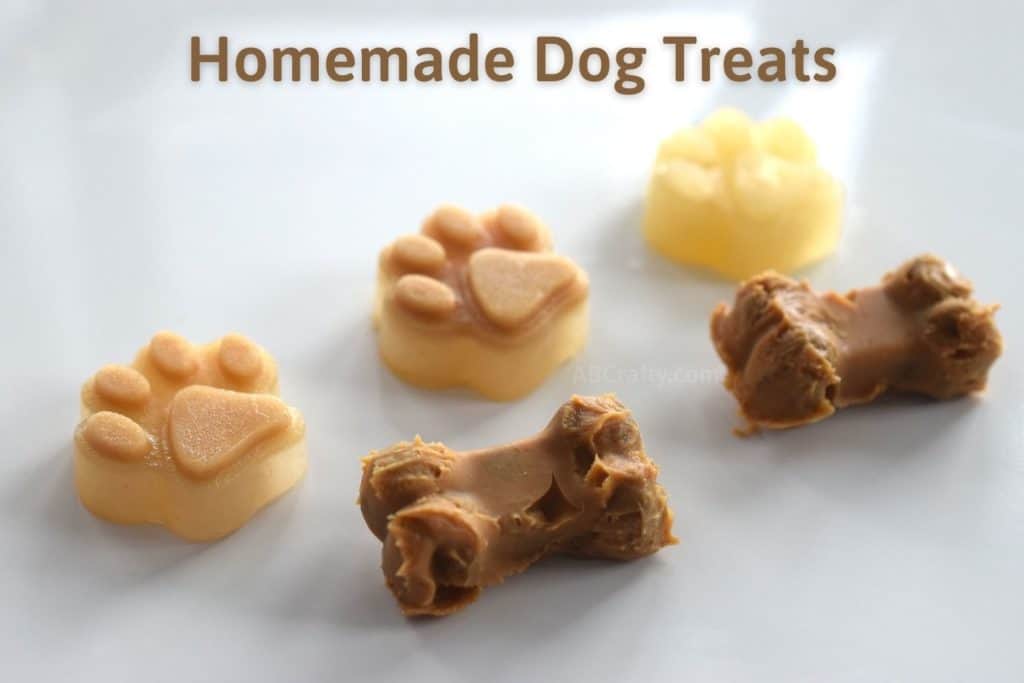 After you're done making your pup their treats, make yourself a snack or get creative with a food craft. Though there's certainly no judgment here if you have a scoop of peanut butter for yourself straight from the jar!
And if you have a cat and want to make them a fun toy, try this felted Peep catnip toy.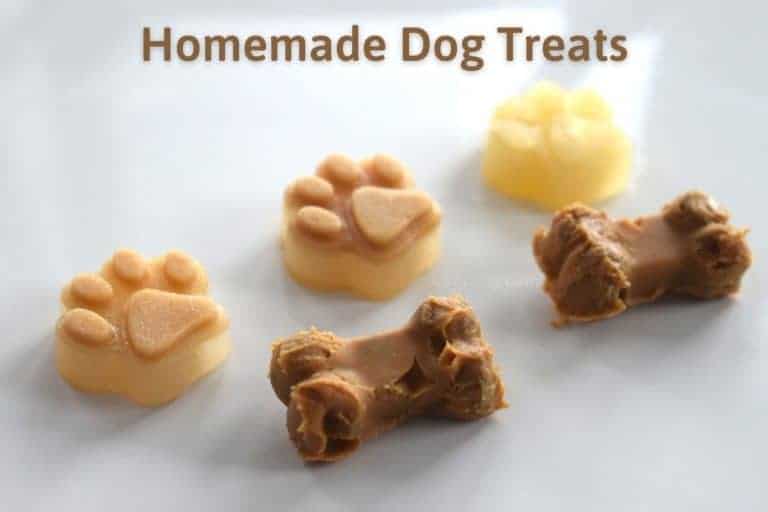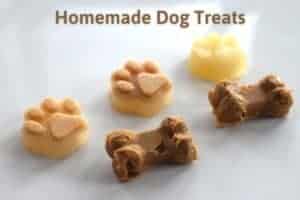 Frozen Dog Treat - Only 2 Ingredients
Learn how to make frozen homemade dog treats. They're fantastic and healthy dog popsicles and only take two ingredients, perfect for training or as a tasty snack for your pup.
Ingredients
½

Cup

Applesauce

½

Cup

Chicken Broth

Unsalted or low sodium
Instructions
Spoon the applesauce into a mixing bowl

Add the chicken broth and mix together

Pour the mixture into the silicone mold

Place the mold in the freezer until solid

Remove from the mold and they're ready for your dog to enjoy!
Notes
For other flavors, you can substitute sweet potato or pumpkin for the applesauce to make sweet potato dog treats and pumpkin dog treats.
To make peanut butter dog treats, combine 1 cup of peanut butter with 1/2 cup of your dog's dry food and spoon into the mold.