Learn how to make a chocolate bath bomb with this easy step by step tutorial. It'll be like you're bathing in hot chocolate – so it's really like a hot chocolate bath bomb.
The great part about bath bombs is they use very few ingredients and this recipe doesn't require essential oils or dyes, which most bath bomb recipes require. Instead, both the scent and color come purely from the cocoa powder. Yes, you'll use actual chocolate for these homemade bath bombs! And I share a variation to make one that looks like an actual Hershey's bar using a custom chocolate bar mold.
Having a hot chocolate bath also doesn't just sound like an amazing dream. In fact, cocoa can actually be good for your skin and help even your complexion (source). And by making your own chocolate mold, it'll look like you're dropping real Hershey's chocolate into the tub!
You'll want to gather the ingredients listed below to make your homemade chocolate bath bomb.
Note: Some links in this post may contain affiliate links, which means at no cost to you, I may earn a commission. I am likely linking to items that can be trickier to get, making it easier for you to find the supplies you need.
Ingredients for DIY Chocolate Bath Bombs:
To begin making your bath bombs, mix all of the dry ingredients (the baking soda, corn starch, citric acid, and cocoa powder). As for the cocoa powder, it's up to you how much you'd like to include. I recommend starting with around a tablespoon and then you can see if you want to add more to increase the scent and color.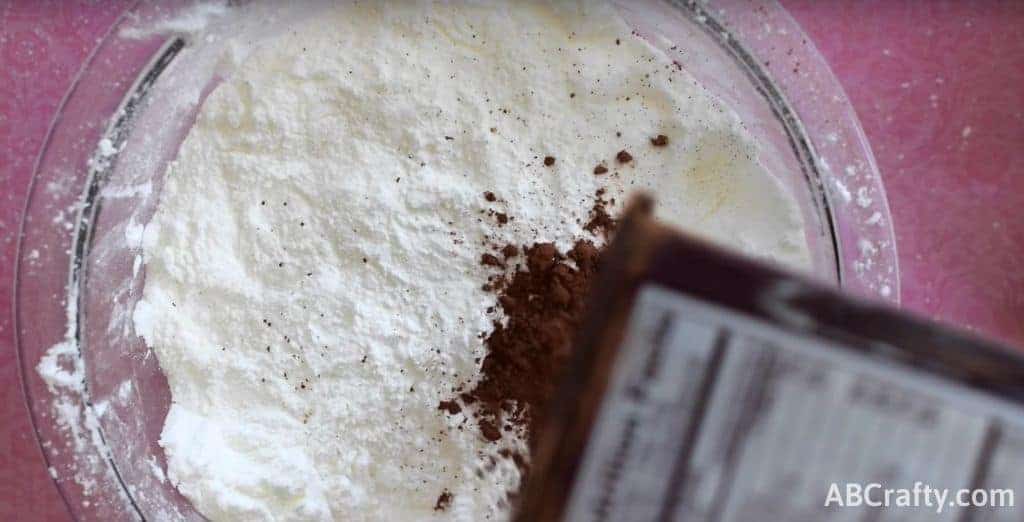 Next, gradually add small amounts of water and mix it in until the consistency feels like wet sand. This is where the spray bottle comes in as it will make it easier to not add too much moisture. You'll see when you start adding water that the mixture will begin to fizz – you've ultimately started the bath bomb fizzing! Therefore don't add too much water, otherwise you will use up all of your bath bomb fizz.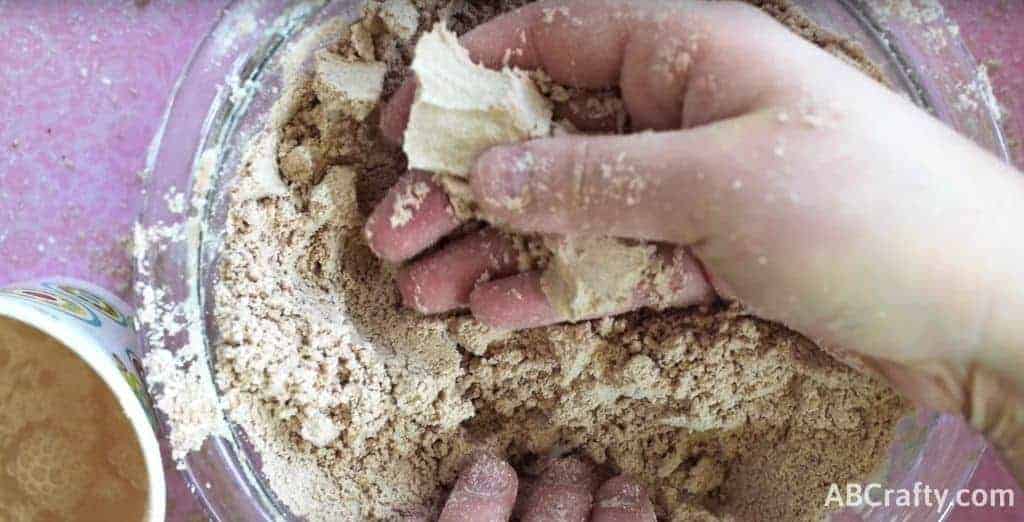 Once your mixture is ready, you can start molding your bath bombs, but how do you use a bath bomb mold? It's easy! Fill the two halves of the bath bomb mold or plastic fillable ornament and press them together. A tip is over- filling the molds can actually work to your advantage here and simply when pressing the halves together you can wipe away the extra.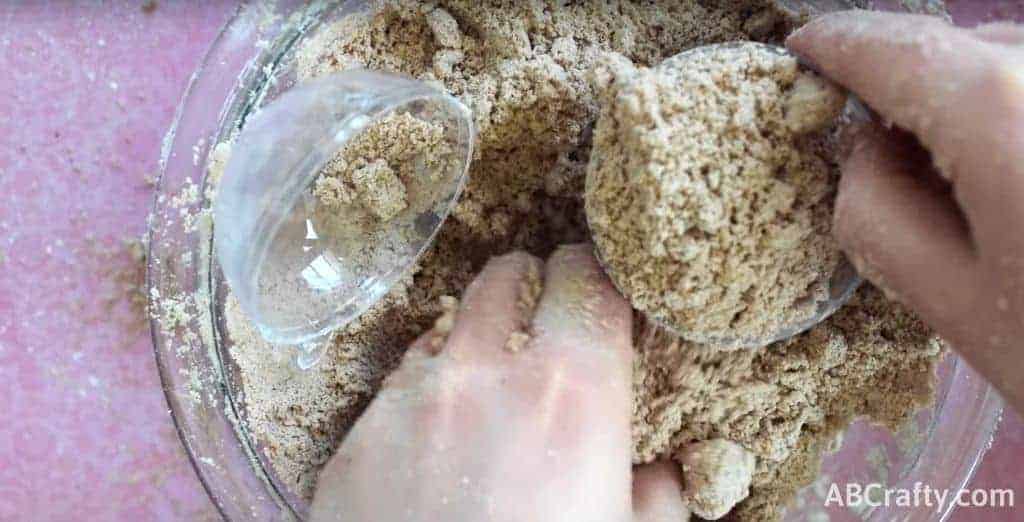 Lastly, carefully remove the molds and leave your newly created bath bombs to dry for at least 24 hours.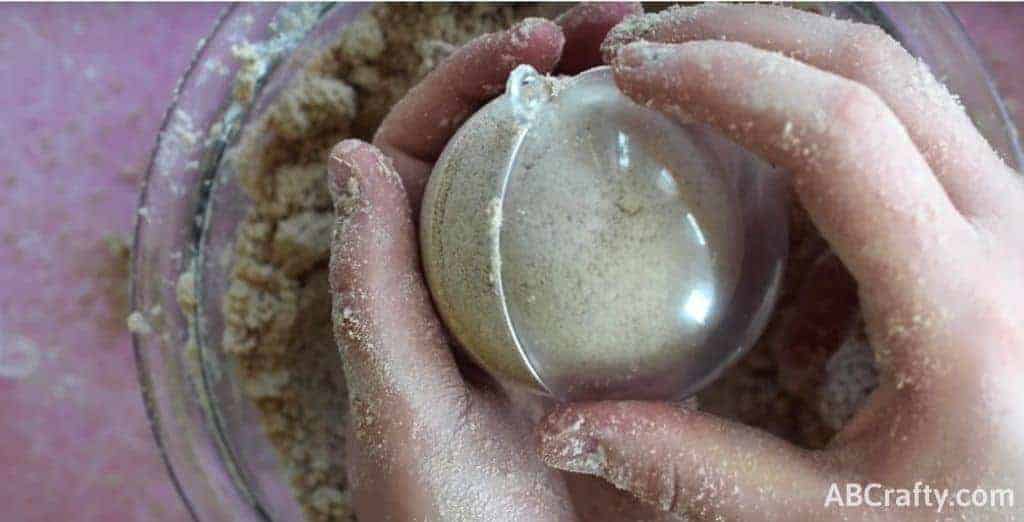 How to make them look like chocolate bars
In order to make the chocolate bar bath bomb, use a chocolate mold and do a similar process as before by pressing the moistened bath bomb mixture into the mold.
Note: I made this Hershey's chocolate bar mold when I made DIY chocolate chalk. But the summary is I used an actual Hershey's bar and some mold putty to create the mold.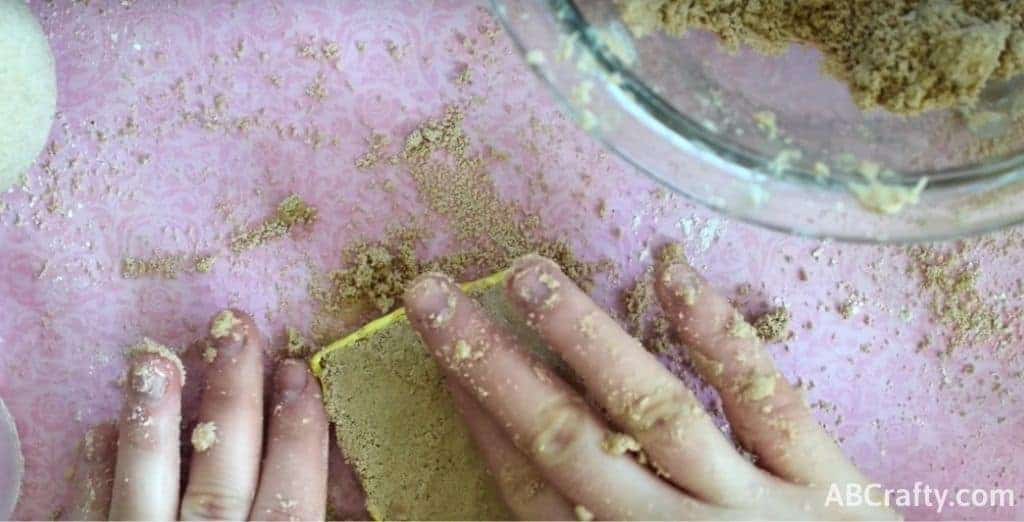 Finally, very carefully, flip the chocolate bar mold over, pushing on the back lightly to release the bath bomb.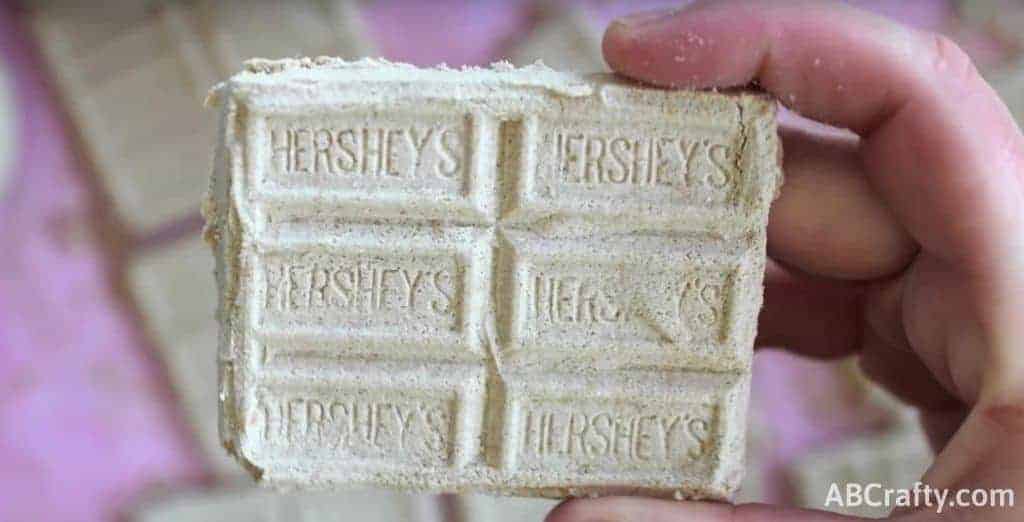 What do I do if the bath bomb breaks?
The great thing about bath bombs is the mixture can be re-used so if your bath bomb breaks while making it, simply crumble it up and try again. Keep in mind, you may need to add a bit more water to make it like wet sand again.
What if the mixture doesn't stay together?
This probably means your mixture is too dry. To fix this, try gradually adding a little more water until your homemade bath bomb stays together.
If video is more your thing, you can also watch the full chocolate bath bomb tutorial here:
What's the best way to use them?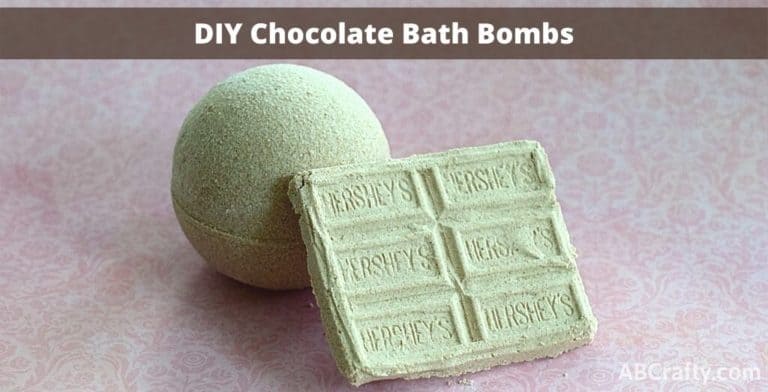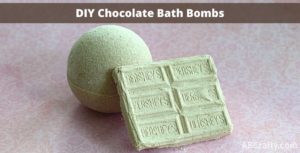 DIY Chocolate Bath Bombs
Make your own chocolate bath bombs and turn your bath into hot chocolate with this tutorial, including how to make a DIY bath bomb look like a Hershey's bar.
Materials
1

Cup

Baking Soda

½

Cup

Corn Starch

½

Cup

Citric Acid

Cocoa Powder

for color/scent

Water
Equipment
Mixing bowl

Plastic fillable ornament or bath bomb mold

Chocolate mold
Instructions
For the round bath bomb
Combine baking soda, citric acid, corn starch, and cocoa powder. The cocoa powder should be added for scent/color so the amount is up to you.

Gradually add water until the consistency resembles wet sand. Be careful not to add too much water at a time. I recommend a teaspoon at a time, or even using a spray bottle. Too much water will cause the mixture to fizz too early.

Fill both sides of a plastic fillable ornament or bath bomb mold and press both halves together.

Carefully remove from the mold and set to dry for 24 hours
For the Hershey's bar bath bomb
Follow steps for the round bath bomb, but instead of filling the ornament, press the mixture into the Hershey's bar mold