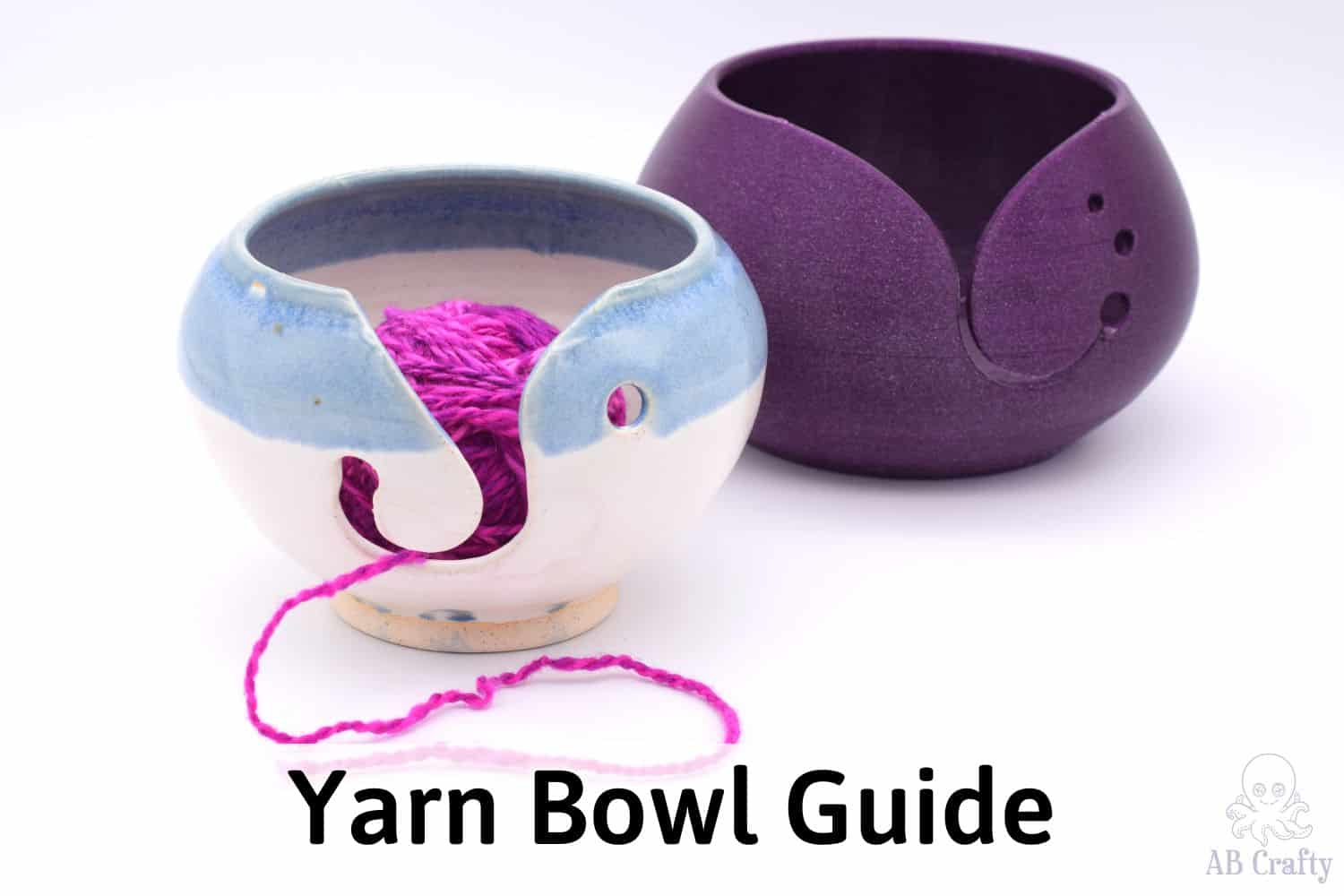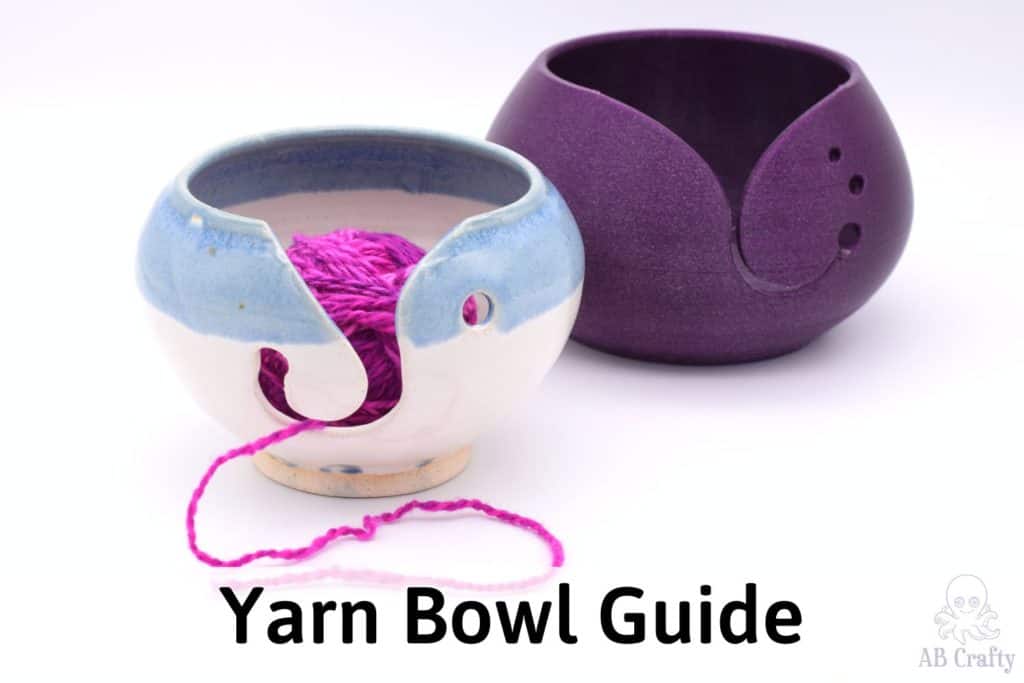 Use this guide to find the right yarn bowl for you and your projects. Learn about the advantages of using a yarn bowl and the differences between plastic, ceramic, and wooden yarn bowls.
Note: Some links in this post may contain affiliate links, which means at no cost to you, I may earn a commission.
A yarn bowl is a bowl that keeps your yarn contained while you knit or crochet. They're sometimes referred to as "knitting bowls" or "yarn holders."
If you're a knitter or crocheter, you know it can often feel as though your ball of yarn has a mind of it's own! It rolls around, falls off your works surface, and unravels. It can be quite frustrating to manage the ball of yarn while you're trying to make your project. This is where a yarn bowl comes in handy – it keeps your ball of yarn tidy and in one place so you don't have to worry about it!
I was gifted this ceramic yarn bowl a few years ago and have never not used one since. I cannot recommend them enough so if you work with yarn, definitely get one (or multiple!). I also recommend them in best craft gifts and best gifts for crocheters and knitters.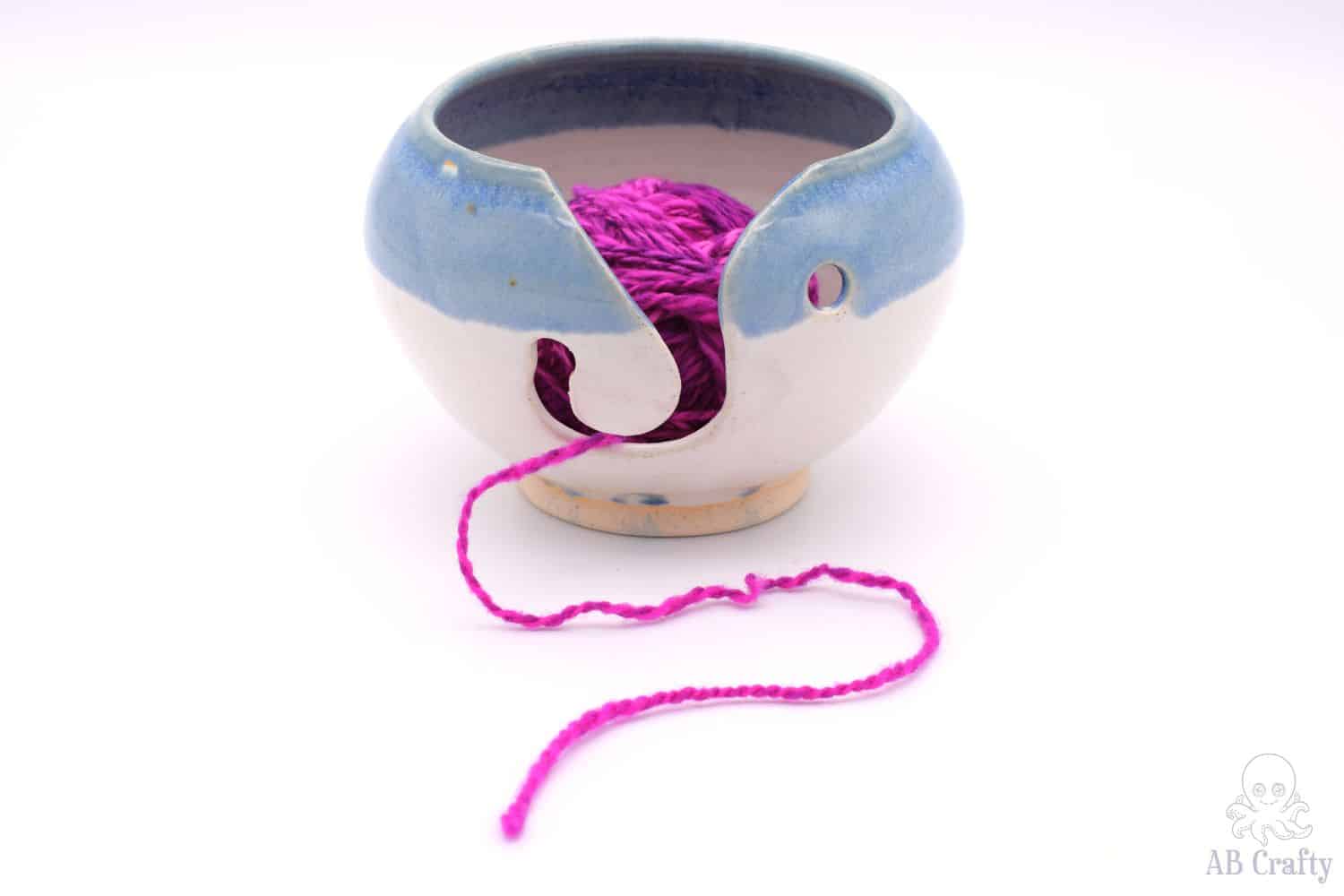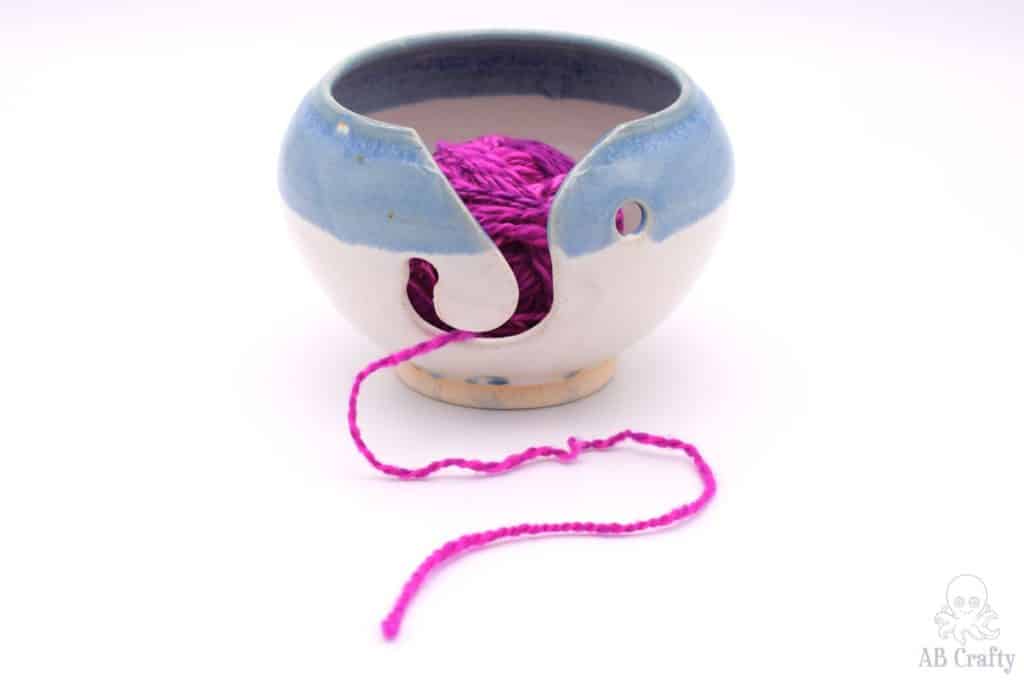 What's the Difference Between a Yarn Bowl and a Regular Bowl?
Yarn bowls have an open swirl at the top of the bowl, going along the side. This swirl holds your yarn while you work. Sometimes there is also at least one hole which can be used for extra security. You can use either option to hold your yarn, but this part is the key difference between a yarn bowl and a regular bowl.
If you were to put your yarn in a regular bowl, the ball of yarn will bounce around in the bowl, and likely fall out. This is because the yarn is getting pulled along the top of the bowl. However, with a yarn bowl, the yarn comes through the side of the bowl, keeping the ball of yarn contained within the bowl.
Furthermore, the bowl is typically wider at the bottom than it is at the top to help keep the yarn towards the bottom of the bowl.
How to Choose a Yarn Bowl
While it may seem as though all yarn bowls are the same, there are actually a few factors you'll still want to consider:
Size
Weight
Portability
Features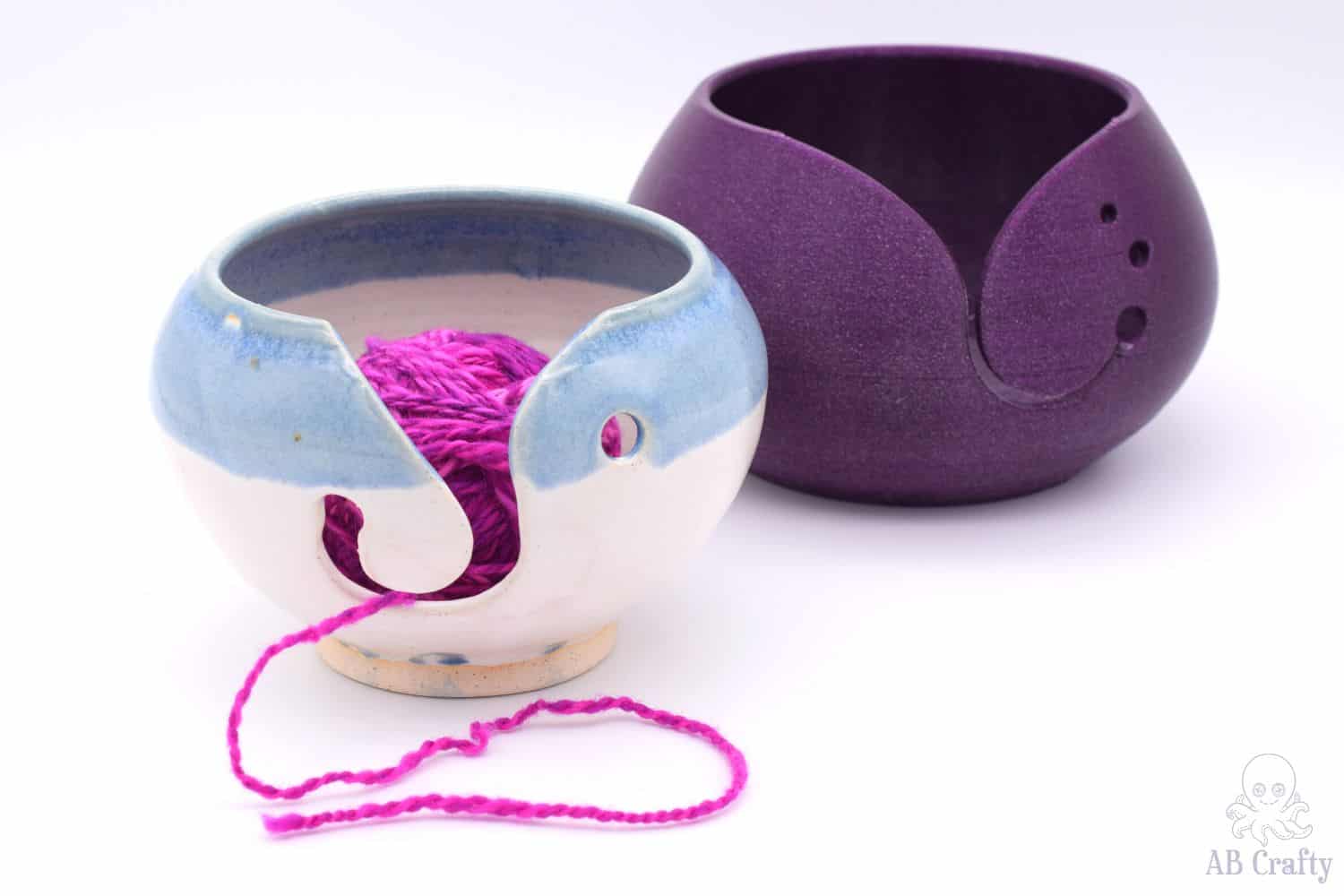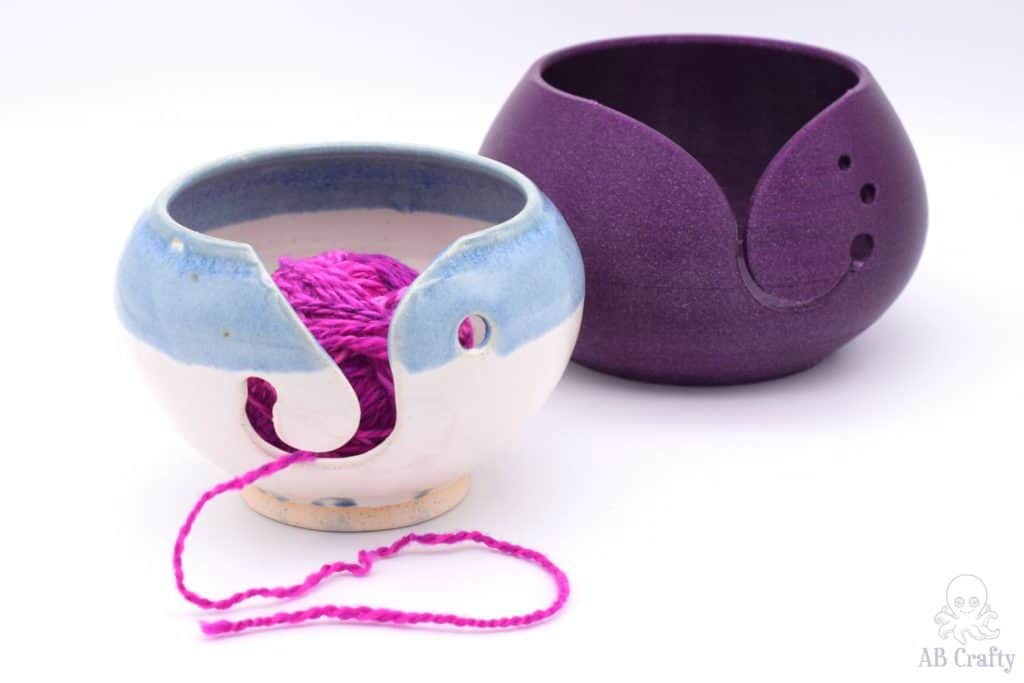 Difference in Sizes of Yarn Bowls
Yarn bowls come in various sizes so the first thing you want to think about is how big of a bowl you need. Larger bowls will hold more yarn, but they'll also take up more space. On the other hand, small knitting bowls don't need as much room, but you also can't hold as much yarn.
Therefore you want to consider the yarn you're using for a project – is it a very large skein? Then you'll need a larger bowl. Do you need to use multiple balls of yarn at once like I did while making the reversible beanie? Then you again need a larger bowl to allow for all of the balls of yarn to move around.
However, if you are using a single average-sized ball of yarn at a time for your projects, you can get away with having a smaller yarn bowl (like I did with my loom knit hat and while making pom poms).
The weight of a yarn holder is important for two reasons – portability and being able to contain your yarn while you work. The lighter the bowl the easier it is to move around from place to place. However, this also means while you're working the bowl is easier to move. This is less of a concern if you're an average knitter or crocheter since the yarn won't bounce around as much.
However, if you're knitting with a knitting machine, for example, then your yarn will bounce around a lot and actually push your bowl with it. Therefore if you're going to use a machine to knit, then you'll want a heavier bowl (such as a ceramic yarn bowl).
Something else to consider when choosing a yarn bowl is how portable you need it to be. Do you often knit while traveling or do you typically just knit at home? Some yarn holders are built for travel so you'll want to choose one of those if you travel a lot. On the flip side, if you travel I would not recommend getting a heavy ceramic bowl – while they might be beautiful, they can be cumbersome to move around.
In terms of features, you need to decide whether you need a hole in the bowl and possibly if you want to use multiple yarns at once, you'll need a knitting bowl with multiple holes. Some even come with lids for extra security.
Don't forget to pin it so you can come back to it later!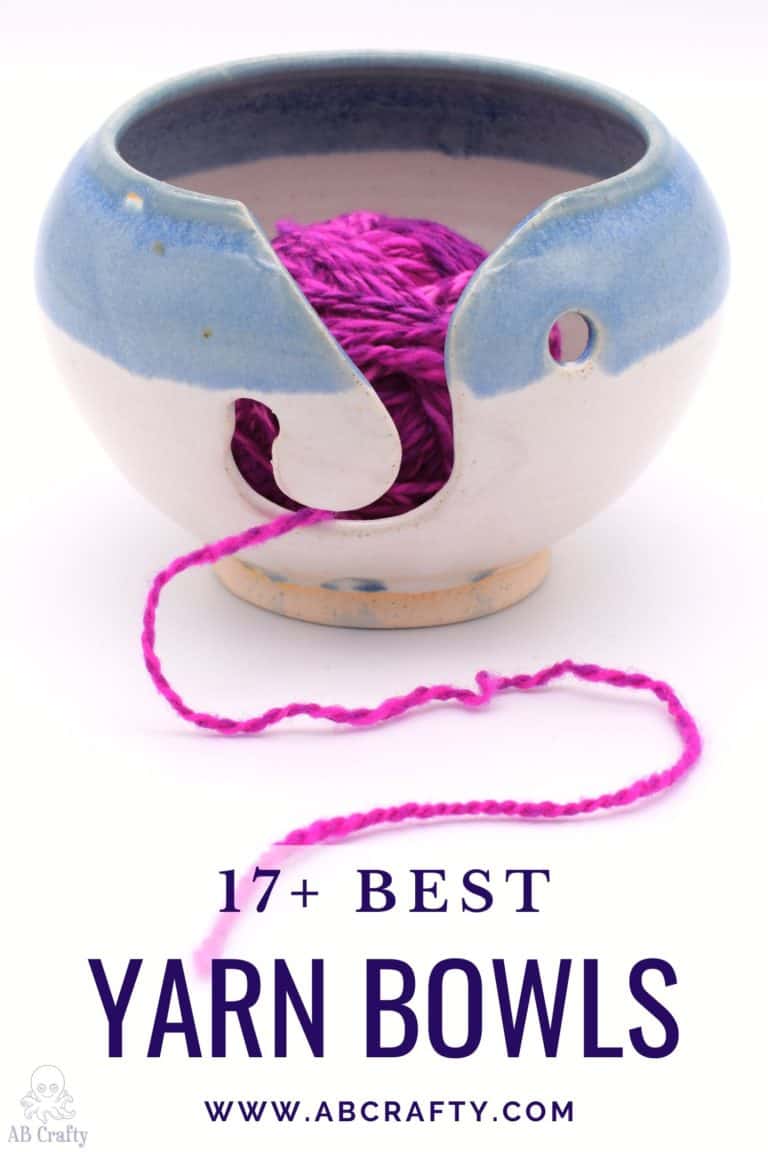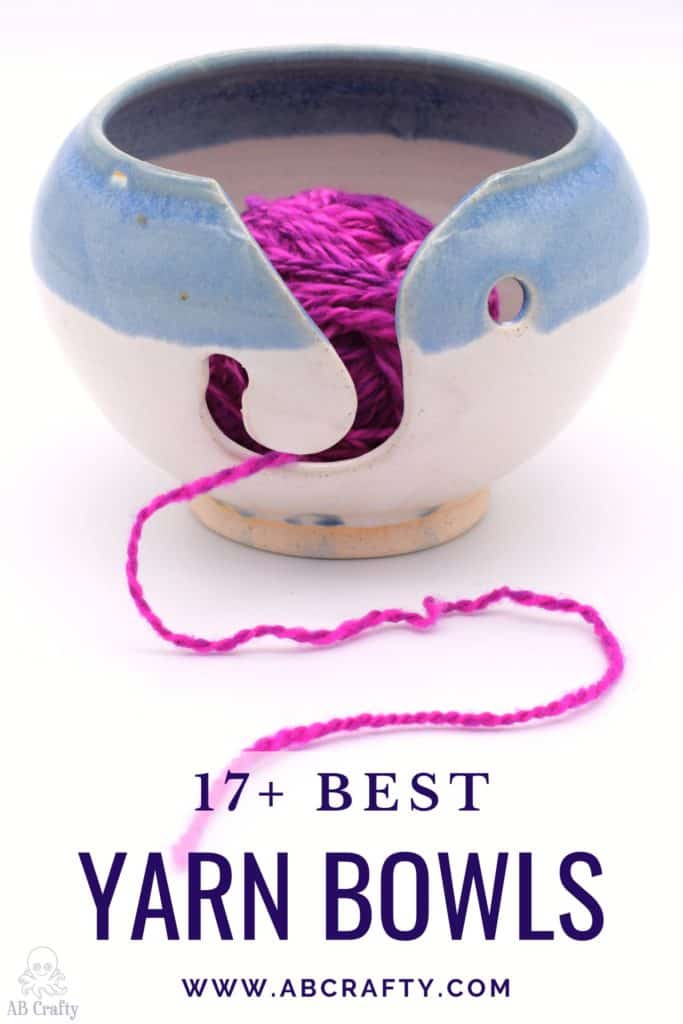 Best Yarn Bowl in Each Category
To make it easy to choose the right yarn bowl for you, I've created this list of the best yarn bowls in each category. Or you can continue scrolling to read more about each one.
You'll notice none of the bowls I recommend do not have a spiral opening. This is because I simply can't recommend a knitting bowl that requires you to keep the yarn in it and only use a hole to feed the yarn through.
The advantage to wooden yarn bowls is they're durable, typically on the lighter side, and they're simply beautiful.
These will be your heaviest bowls so if you want something that won't move, these are the ones to get. Just be sure not to drop it!
If you knit or crochet on the go, you'll want a yarn holder built for portability. These are lighter and protect the yarn even more.
If you use large balls of yarn or need a bowl that has room for multiple balls of yarn, I definitely recommend one of these large yarn bowls.
Unique and Funny Yarn Bowls
These are not your standard bowls so if you're looking for something more unique, I definitely suggest one of these.
There are also plenty of funny yarn bowls that look like a creature or person vomiting yarn, but I haven't been able to find one that also have a spiral opening. Therefore I don't recommend one of those because that means your yarn would have to stay in the bowl.
More Craft Supply and Gift Guides